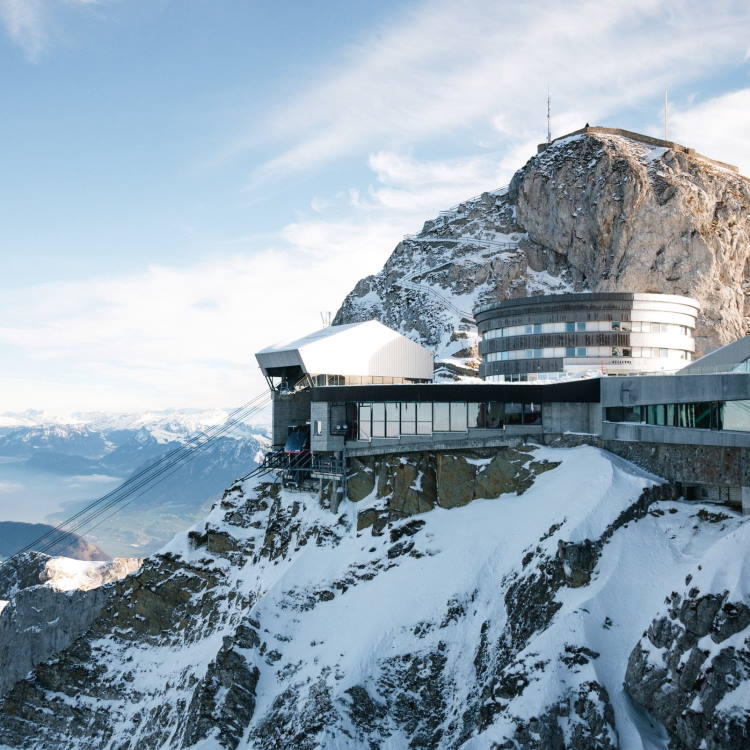 Titlis vs Pilatus vs Rigi : A Day Trip from Lucerne
The Alps are the highest and most extensive mountain range system that lies entirely in Europe, and stretch approximately 1,200 kilometres across eight countries. Alpine region of Switzerland, more commonly called the Swiss Alps are one of the main highlights of the country and they cover about 60% of the region. This explains the fact that there are multiple mountains spread across the country and each is unique in its own way.
Lucerne is one of the most visited towns in Switzerland and serves as the starting point for many such mountain excursions. If happen to be here / planning a visit soon, and are confused about which mountain to ascend for a day's trip, you've come to the right place. I've drawn a fair comparison between 3 of the most popular ranges to go to from Lucerne and I hope it helps you in your final decision making!
| | Titlis | Pilatus | Rigi |
| --- | --- | --- | --- |
| Height | 3,238 m | 2,128 m | 1,798 m |
| Cost | 92 CHF | 72 CHF | 72 CHF |
| Time Required | 1 Day | 1 Day | 1 Day |
| Distance from Lucerne (Approx) | 43 kms | 15 kms | 28 kms |
| Snow | Yes | Probably | Probably Not |
| Restaurant | Yes | Yes | Yes |
| Transport Options | 🚄 🚠 (360° rotating cable-car) | 🚢 🚞 🚠 (dragon cable-car ride / multiple scenic route options) | 🚢 🚞 (multiple scenic route options) |
| Cliff Walk | Yes | - | - |
| Glacier Cave | Yes | - | - |
| Mountain Lake | Trübsee | - | - |
| Additional | Trübsee: Trübsee Adventure, Trübsee (winter) Snow Park | Fräkmüntegg: (summer) Toboggan, Rope Park, Dragon Glider, Pilu Land, Wipfelpfad | |
| Kid Friendly | Yes | Yes | Yes |
| Swiss Pass Coverage | 50% off | 50% off | 100% off |
| Eurail Pass Coverage | 25% off | 50% off | 50% off |
| What to Expect? | Snowy mountaintop with a great view and an amazing lake. | Great views of Lucerne from a height of 2000 m | Killer views of Lucerne and greenery all around |
⚠️ The Swiss Pass and Eurail Pass discount listed are considered from the mountain base (or nearby station) to the mountain top. The trains from Lucerne to the mountain base are generally free with both the passes. Please check before buying at their respective websites.

⚠️ Please check for availability of transport to and from your location. Due to varying snow and track works, not all options may be available.
Verdict
If you want a fun time in the year round snow along with experiencing a whole lot of fun activities and some serene quality time by a breathtaking lake, high in the alpine mountains, Titlis would be your ideal choice.
Choose Pilatus if you want to go high up a mountain without losing sight of Lucerne and Lake Lucerne and want to take up a scenic round trip with some fun activities.
If you want an all rounder scenic experience with great hiking and green pastures with cows and cowbells, coupled with stunning views of Lucerne, choose Rigi. It is called the "Queen of Mountains" for a reason.
Since we were arriving in June, the chances of snow atop these mountains were a crucial factor in the decision making. And since we did not do the classic Jungfraujoch, we decided to go to Titlis, as it had the best combination of snow and fun. We wanted to head to Rigi as it provided killer views, but dropped it due to the lack of snow.
Our Titlis Experience
Titlis started off with a walk through the picturesque village of Engelberg at its bottom, a fun cable ride at a steep angle watching grazing cows, pristine lake Trubsee and the magical landscape on the way and then indulging in some fun activities like walking through a frozen cave, balancing on Europe's highest suspension bridge, zooming on the Ice Flyer glacier chair lift, face off with a snow machine throwing snow balls at you and meeting Shahrukh Khan and Kajol at the top of the mountain. On our way down we stopped by the magical Trubsee lake and spent some quiet time staring at its calmness. Just before entering the lake there is a fun adventurous station with 2 super scary activities : jumping off from the second floor into an airbag (I still have nightmares of this jump since I am not a daredevil) and a trampoline jump, which again being an activity that I specifically excellently sucked at! Turns out kids were super good at this and I had to take a walk of shame and step down.
---
Travel Options
Titlis has a straightforward route: Lucerne 🚄 Engelberg 🚠 Titlis 🚠 Engelberg 🚄 Lucerne

The route to Pilatus can be done in many ways. The best combination is listed below.

Golden Round Trip: Lucerne 🚢 Alpnachstad 🚠 Pilatus 🚠 Fräkmüntegg-Kriens 🚌 Lucerne
Silver Round Trip: Lucerne 🚄 Alpnachstad 🚠 Pilatus 🚠 Fräkmüntegg-Kriens 🚌 Lucerne

The route to Rigi can be done in many ways. The best combination is listed below.

Majestic Round Trip: Lucerne 🚢 Vitznau 🚞 Rigi 🚞 Arth-Goldau 🚄 Lucerne
Classic Round Trip: Lucerne 🚢 Vitznau 🚞 Rigi 🚞 Weggis 🚄 Lucerne
---
🚄-Train       🚠-Cable-car       🚢-Boat       🚌-Bus       🚞-Cogwheel Railway
---
Map
📌 Use the below interactive map for directions:
✔ Clicking the top right button opens the map in a new tab showing the different sections. Click on view map legend if browsing on phone✔ Save the map in your Google Maps for easy access later: Click the ⭐star button beside the name of the map. You can access the map later from Google Maps > Saved > Maps
---
Live Video Feed
Here is the live feed from the webcams of all 3 mountains. Pick your favourite !
Click on the name to visit the official website
---
Gueti Reis!