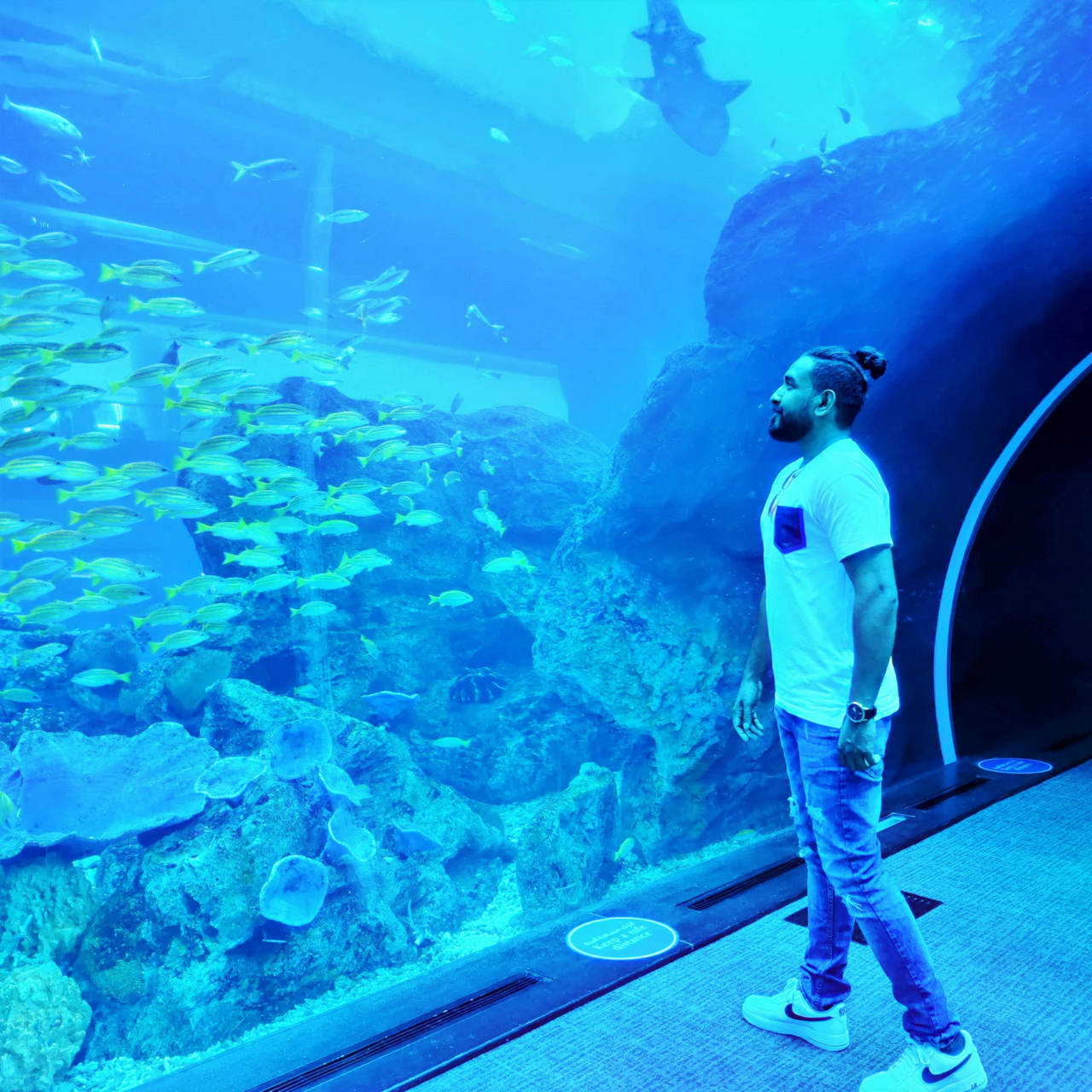 Top Free and Paid Attractions in the Dubai Mall
---
The Free Ones-
1) Visit the Human Waterfall
With its sheer beauty and compelling artistry, it is no wonder hordes of shoppers and tourists are drawn to the magic of this indoor water feature. As a spectator of this creative man-made cascade, you will be able to lay eyes on a handful of dazzling human sculptures with their hands spreading sideward, appearing to plunge downwards to the waterfalls. These human divers, by the way, are all made from fiberglass.
The cascade has a rhythmic water flow that would create an animated visual spectrum. Of course, this cadenced flow was made possible by an overhead reservoir that feeds recycled water to its pair of cylindrical structures. Also, the entire water feature is beautifully illuminated by a skylight as well as the sunlight coming from mall's huge windows, making your viewing experience more pleasurable.
A big heart play block placed in front of part of the waterfall makes for excellent photos!
---
2) Say hello to the Dubai Dino
Taking center stage in Dubai's flagship shopping and entertainment center, the Dubai Dino is a one-of-a-kind display that would give you a sneak peek of the gigantic creatures of the prehistoric era. Measuring over seven meters high and 24 meters long, this towering and intriguing exhibit is a genuine fossil of a Diplodocus longus, a long-necked, whip-like tail sauropod that roamed the face of the earth more than 150 million years ago.
Nearly all the bones of this sauropod were discovered unscathed at its excavation site. Its tail bones, though, were detected broken, which were either caused by a trauma from a fight, or a ferocious bite from a large prey. As a result, paleontologists were forced to replace some of the bones that were missing on the fossil's tail. Still, it is the most original skeleton finding of a Diplodocus longus in the world today, with over eighty percent authentic fossil bones. Prior to this discovery, the most genuine remains of this sauropod only had thirty percent of its original bones.
---
3) Don't forget to take a picture with the new Dubai "Love Me" heart sculpture!
LOVE ME is a giant 3D sculpture of a heart, by acclaimed artist Richard Hudson. Created in a smooth polished mirrored steel, 'LOVE ME' is a new iconic fixture for the local community, spreading romance to everyone who views it. The heart-shaped, polished steel sculpture was aptly unveiled on Valentine's Day in 2018, 'Love Me' playfully reflects the city's most beloved landmarks, Burj Khalifa and The Dubai Mall. LOVE ME is the latest piece to be added to Emaar's growing community art portfolio, and it's so big that it had to be transported in pieces to its new home and assembled onsite.
---
4) Stare at the Burj Khalifa from various angles
The Burj Khalifa and the Dubai Mall are owned by the famous EMAAR group and hence the 2 buildings are located at super close proximity - In fact they are actually connected! You get stunning views of The Khalifa from all around the mall - and she's a stunner from every angle :) Hop over to the food court of the mall, choose a snack and proceed to the outdoor seating area attached to the food court! A date with the Burj while you relish on an international snack is a memory to hold onto for a long long time!
---
5) The free fountain show!
The Dubai Fountain, which sits in the Burj Khalifa Lake in Downtown Dubai, beneath the Burj Khalifa, is the world's largest choreographed fountain system. Visitors flock to the shop- and restaurant-lined lakeside to watch the spectacle: water jets bursting to life and swaying in synchronicity to lights and music.
Created by the designers of Las Vegas' Bellagio fountains, The Dubai Fountain is the world's tallest fountain. The fountain does its thing 12 times daily—twice in the early afternoon and at 30-minute intervals at night—creating an extravaganza of 1,000 water formations and 6,600 lights, plus images and music. It's free to watch from the lakefront; you can also pay to ride an abra boat or walk on the floating Dubai Fountain Boardwalk for close-up views.
---
6) The free light show!
And as if we were not already by the might Burj Khalifa, she goes a step ahead and offers more. As the sun goes down and the clock strikes the once calm Khalifa completely transforms into a party animal! Mesmerizing lights bouncing from one floor to another, horizontal, vertical and all over - This 5 minutes sequenced display of lights and lasers along with some heart warming music is just brilliant! You could see this on YouTube a hundred times, but those 5 minutes of live display of magic is something else! We loved it so much that we waited for the next show and watched it twice :)
---
The Paid Ones-
1) Dubai Mall Aquarium and Underwater Zoo
Dubai Aquarium & Underwater Zoo is home to thousands of aquatic animals, comprising over 140 species. Over 400 Sharks and Rays live in our 10 million litre tank, including Sand Tiger Sharks, Giant Groupers, and a host of other marine species. The aquarium is a walkin experience with huge glass containers above you as you walk with different aquatic creatures creating you and saying their hellos!
A series of carefully designed experiences will allow visitors to come face to face with the aquatic residents for memorable moments with friends and family. Some of the encounters include - King Croc, Penguin, Otter, Ray Fish, Sharks and a feeding presentation.
---
2) The Ice Rink
Dubai Ice Rink is one of the key leisure attractions at The Dubai Mall, the world's largest shopping and entertainment destination. Located on the ground floor of the mall next to The Souk, the Olympic-size Dubai Ice Rink has become a social hotspot, appealing to the entire spectrum of the society, both to young and old alike. Dubai Ice Rink has enhanced its range of facilities to define its credentials as the must-visit leisure destination in the city. This popular attraction has established itself as a vibrant party- and dance-floor and a lively venue for youthful events. Assuring unlimited fun for skating enthusiasts and for visitors, one is sure to have a gala time ice skating here. Just incase you are wondering that you've never skated before - then worry not! As a beginner you will be provided with support tools (like a penguin stand) which you could hold onto and make your way forward. A 2 hour session is what I would recommend a visitor/tourist who just wants to try something new and fun! By the end of the 2 hours you will not be able to stop smiling :)
---
3) Flight Simulator - Emirates A380 Experience
Experience the thrill and challenge of piloting the world's largest passenger aircraft when you buckle up, take the controls and soar in our state-of-the art flight simulator at Dubai Mall. Take flight as captain of the Emirates A380 in our flight simulator experience. Join our trainer in the cockpit and Fly the world's largest passenger aircraft around city scenes and famous landmarks. Ascend, descend, turn and land as pilot on short trip or long-haul journey. You get to choose your destination from thousands of busy airports and select from a range of different flight paths and also test your abilities against your family and friends.
---
4) KidZania
A learning and fun rolled into one experience for kids in a scaled replica of a real city. KidZania is packed with over 70 role-playing activities for children aged 2-16, where they'll learn all about jobs, money and the real world while developing life skills that simply cannot be taught in the classroom. Watch your kids face real life challenges and how they face them using their skillset and presence of mind! Some of the things you will see your kid experience here are - making healthy snacks at Fade Fit Kids Healthy snack facotory to flipping burgers at McDonald's to creating their own pizzas at Pizza Express, try different roles such as floor manager, camera person, and host their own entertainment show, money management continues at the Department Store, with cashier and stock manager roles giving children confidence in financial literacy, while visitors to the store can spend their kidZos just like money in the real world.
---
5) Shop at Fashion Avenue
At Fashion Avenue, vision becomes reality. With inspired architecture, influential art and stylish interiors, Fashion Avenue is the embodiment of luxury. Rediscover the world's most coveted brands, curated with the most discerning customer in mind. From flagship stores to exclusive concepts and products, Fashion Avenue is the new home of luxury. Step into personalized luxury from the moment you arrive. VIP valet, expert personal shoppers, in-mall chauffeur service, shoe shine and more, Fashion Avenue brings hotel style 5-star service to your shopping experience. Home to around 200 fashion brands, bring all those pennies you saved while working your 9:5 - this is the best place to shop till you drop while in Dubai!!
Rihlat Saeida! :)