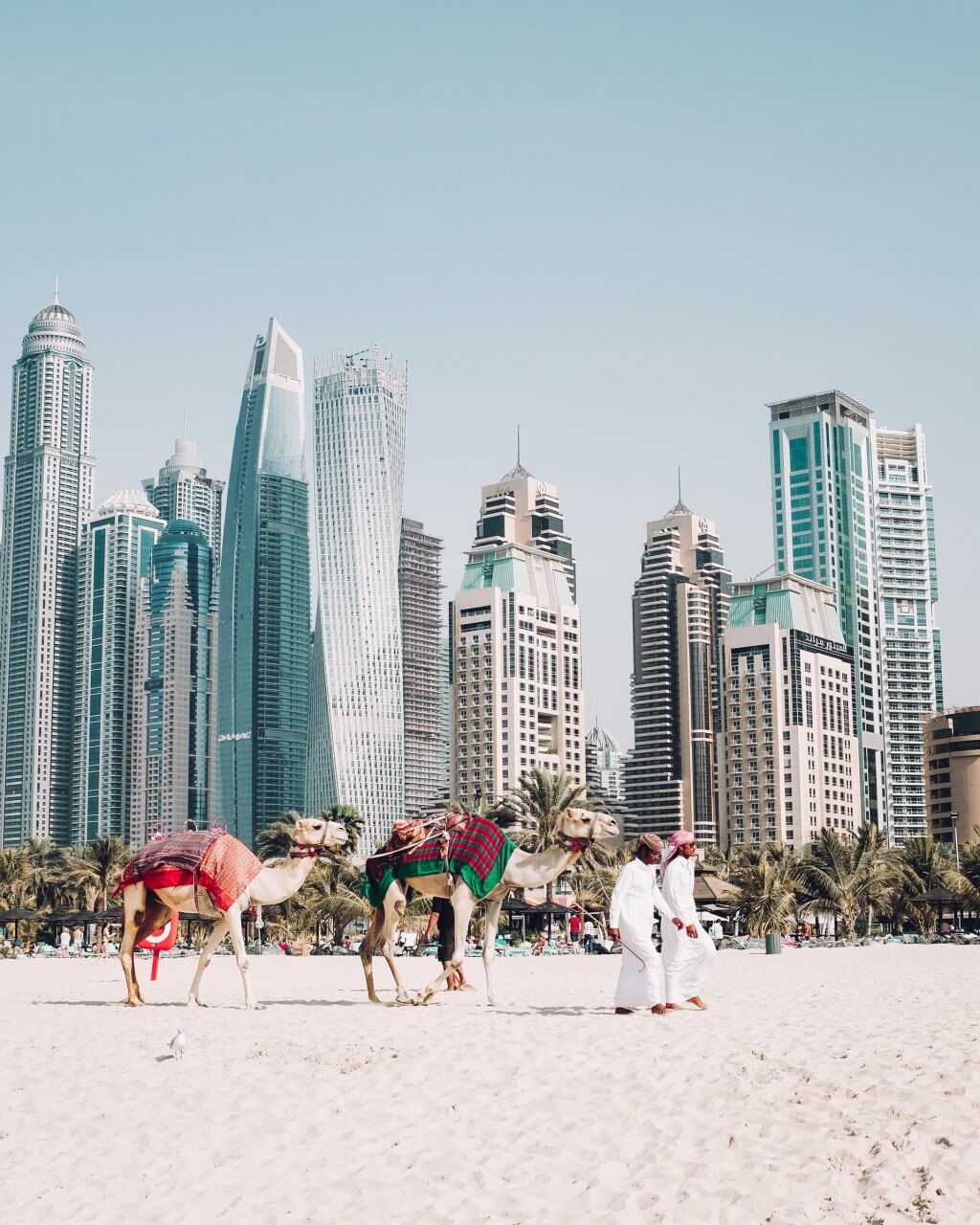 The Complete Guide to Dubai
Dubai is not a country dummy, rather is an Emirate (in simple words, its a state), meaning it is a political territory that is ruled by an Arabic dynasty or Islamic monarch-styled emir. It is one of the seven Emirates which constitute the United Arab Emirates - the other famous ones being the capital city of Abu Dhabi and Sharjah, both of which are close to Dubai and can be travelled to within 2 hours. The other emirates are Ajman, Umm Al-Quwain, and Fujairah, and Ras Al Khaimah.
Dubai prides itself in all things BIG. Let's play a game - can you guess where the below are located?
Tallest building in the world?
Largest mall in the world?
Biggest artificial island in the world?
Largest glow garden in the world?
Longest driverless metro network?
Largest automated car parking in the world?
World's largest sweet shop, world's largest gold ring, world's largest choreographed fountain system?
Ok! Ok! I'll stop - you get the point. Dubai aims at providing the best of the world to its visitors and gives them a chance to brag to their friends later that they visited the tallest, largest and biggest of everything there is. Jam-packed with things that were designed to be most extravagant, it is an aggregation of all things famed luxurious and popular all over the world - Its almost like they see it and they want it. You will notice replicas of many world famous buildings glittering in its skyline - London's Big Ben, Turning Torso of Sweden, New York's Chrysler Building, London Eye to name a few. Take this as an activity and spot as many world famous building replicas as you can while in Dubai.
---
Average Trip Cost
Here's a quick reference for a 6 days trip for 2 people from India. The trip costs are exclusive of shopping and miscellaneous expenditures. Note that the trip costs will vary depending on the attractions chosen, the place of stay, food and transport.
| | Type | Cost (INR) | Remarks |
| --- | --- | --- | --- |
| 📄 | Visa | ₹15,000 | Check Visa Section |
| ✈️ | Airfare | ₹35,000 | Onward + Return fare for 2 |
| 🛌 | Stay | ₹20,000 | Avg hotel price ~₹3.5k |
| 🍔 | Food | ₹14,000 | Meals for 2 between ₹800 - ₹1500 |
| 🎫 | Entry Tickets | ₹15,000 | Depends on what you want to cover |
| 🚌 | Transport | ₹8,000 | Mix of cabs and metro |
| 💸 | Total | ₹1,07,000 | Total for 2 people |
---
Permit and Visa Guidelines
INR 7,500 incl E-Visa and International Medical Insurance

Like all countries, Dubai has different entry rules for passports of different nationalities. Please check here to see if your passport would need to apply for a visa prior to landing in Dubai or if you could do with a visa on arrival.
Indian citizens have to get a tourist visa before entering Dubai. There are mainly 3 types of visas-
Transit - 48 hours & 96 hours
Tourist - 30 days (INR 7,500)
Visitor - 90 days
A traveler with an Indian passport and a valid US visa (any category including B1/B2) or a green card, both of which have a validity lasting for at least 6 months from the time of your trip's start date is eligible for Visa on Arrival. Cost reduces drastically here at AED 140 (~INR 2,700)
The visa provided is an electronic one (E-Visa) and you can just keep a copy of it on your mobile device throughout your stay and need not get hard copies of it. The process is not very daunting. You just need these 2 documents-
Front and back page of your passport
Passport size photograph with white background
Contact us to receive hassle free E-Visa with International Medical Insurance
---
Best time to visit
⛵ With Dubai being a desert, the weather is a big factor to consider while travelling here. Its winter months from November to March, are the best to wander about and explore the city - the day times are just the right temperature at about 22°C and the nights are chilly!
🌞 It's best to avoid the summer heat, unless you need to be there. The warm desert air with the scorching sun can give you a hard time if you are not used to the climate here.
The days can get quite hot and the nights pretty cold. The weather here is in the extremes, however, inside most public places the temperature is maintained. Highly recommend carrying a light jacket to avoid the late evening shivers! Dubai receives very less rainfall and is mostly controlled by cloud seeding.
---
What to do in Dubai?
📌 Experience the Highest, Largest, Longest, Tallest of everything in this wonder city
📌 Appreciate the plethora of architectural wonders in the form of skyscrapers dominating the skyline
📌 Get lost in the never-ending malls of the city - Dubai Mall, Mall of Emirates, City Walk
📌 Visit a souk - a modern marketplace with an old world charm
📌 Theme parks of Dubai - spoils you with the range of options making it too hard to choose
📌 Experience the adrenaline filled adventure rides of Dubai
📌 Check out the gardens - Miracle Garden, Butterfly Garden, Glow Garden
📌 Enjoy the cruise life in Dubai - Dhow/Boat/Yacht
🥘 What should I eat?

🍛 Khuzi - national dish of the UAE, roasted lamb or mutton served on top of a bed of rice and topped with vegetables and nuts
🍛 Shawarma - a flavorful meat roll served with pickled veggies
🍛 Baith Tamat - a typical breakfast consisting of eggs slow-cooked with tomatoes and herbs
🍛 Kousa - stuffed sqaush or zucchini
🍛 Kellaj - dough dessert
🍛 Cheese Kunafa - must try dessert - Thank me later!

🥃 What should I drink?

☕ Gahwa - traditional Arabic coffee
🍵 Sulaimani Tea
🥛 Laban - chilled salted yogurt drink
🍵 Zafran Tea from Filli's
---
Want to check out our personal Instagram Stories?
---
Dubai Culture and Language
Dubai along with the other 6 emirates form the country of United Arab Emirates as we saw earlier, and along with Saudi Arabia, Kuwait, Qatar, Bahrain and Oman form the 6 Gulf countries of the world. Dubai was initially funded by its oil reserves, but quickly shifted its sights to Global Tourism. Being a global destination, Dubai promotes a forward thinking open minded attitude. Now, that doesn't mean that Dubai is a free-to-do-anything-state. Among others, public drinking and PDA are illegal.
The general population of Emiratis (natives of UAE) in Dubai is just about 12%, while 88% comprises of expatriates and immigrants. The govt. grants citizenship with a pinch of salt - locals are preferred in most govt. jobs and are paid better than immigrants. Dubai is a favorite destination among Indians for work and travel. The Indian population here is close to 27%, with majority contribution (you guessed it right 😉) coming from the state of Kerala.
Arabic is the official language while English is widely spoken and due to the Indian population here, you can easily get by with Hindi and Malayalam in most places 😉. So much so that restaurants in touristy places play Bollywood songs frequently as well as multiple radio stations are dedicated to India and its music.
Sunday is the beginning of the week in UAE while Friday and Saturday are considered as weekends - All tourist attractions are open for a much longer duration during the weekends!
Ramadan is celebrated as the most important festival. During the Ramadan months, many malls and stores run huge discounts and offer celebratory deals.
Clothing
When in Dubai, feel free to wear anything that suits you as you would in Europe/America. Do note that if you are visiting a place of religious significance, always cover up. That said, bikinis are allowed in most beaches.
Did you know? Dubai is a tax free state and hence most electronics and goods are available at much cheaper rates as compared to India. The next time you go to Dubai, be sure to pick up some of your long favorite items pending in your wishlist.
---
How to travel to and in Dubai?
Traveling to Dubai:
Traveling to Dubai is very easy with a host of direct flights from almost all countries. Check out the prices below.
Also note, that Sharjah/Abu-Dhabi are pretty close and if you are a budget traveler, then a flight to one of these airports could get you a cheaper deal.
Travelling in Dubai:
Bus: Buses are another way to travel around Dubai. Since Dubai relies heavily on private transport, buses are less frequent and fewer in number.

Taxi: By far, taxi is one of the better options if you are traveling as a group or are planning to visit places which are farther away from the metro coverage.

Metro: The easiest way to travel in Dubai is via Metro. There are 2 lines - Green and Red. The metro covered areas are divided into zones and the prices are based on the numbers of zones travelled.

Metro operating hours
-- Saturday - Thursday : 6 am - 11 pm
-- Friday : 2 pm - Midnight
Check out the Dubai metro map here
NOL Card - These are fantastic options if you are using the public transport systems for the majority of your trip. This one card can be recharged based on your needs and can be used multiple times.

City Cards and Passes- City cards are another option for you if you are looking for a good deal on a card that offers transport along with tickets and discounts on other sights, all packaged in a card. If you want a hassle free experience for certain days, check out Dubai city passes here .
---
Top Things To Do In Dubai
1) Burj Khalifa
💳 AED 149 - 507 (Details below) | 🕑 3 hrs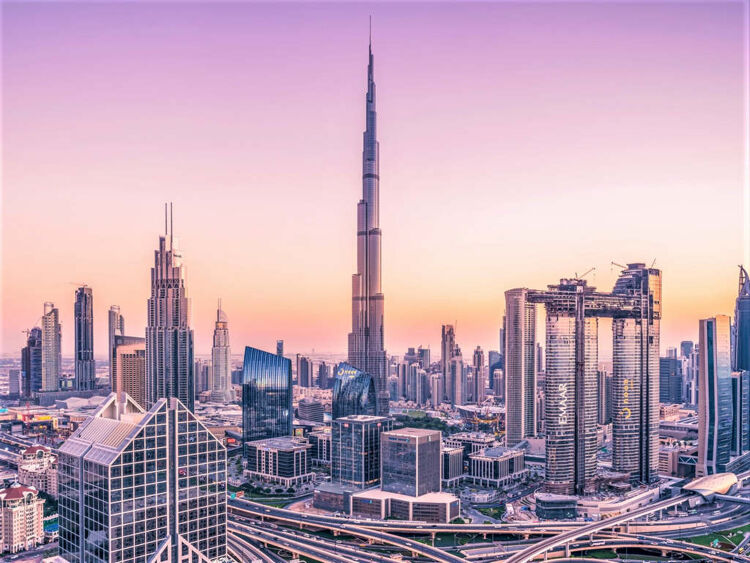 What is it?
Located in downtown Dubai, Burj Khalifa is the tallest building in the world with a whopping 163 floors. Burj Khalifa is basically a luxury building with floors dedicated to living spaces (900 luxury residences), corporate offices and hotels. Now what's in it for tourists you ask? 2 observation decks overlooking the ever-growing skyline of Dubai.
What to expect?
At the Top, Burj Khalifa (Access to level 125, 124)
Non-Prime hours : Adults = AED 149; Children (4-12) = AED 114
Prime hours (16:00 - 18:00) : Adults = AED 224 ; Children (4-12) = AED 132

Public outdoor observation terrace providing panoramic views of the city
A crowd-pleasing virtual reality experience that takes users on a thrill-packed, height-themed spy mission at Burj Khalifa
Use the world's fastest double deck elevators, cruising at 10m/s
Take a closer look at the world below through high powered telescopes.

At the Top, Burj Khalifa SKY (Access to level 148, 125, 124)
Non-Prime hours : Adults and Children = AED 361
Prime hours (16:00 - 18:00) : Adults and Children = AED 507

Enjoy a personalized tour, guided by a Guest Ambassador
Step out onto the world's highest observation deck with an outdoor terrace
Refresh yourself with signature refreshments at SKY lounge
Continue your journey to levels 125 and 124
The tower lights up once the sun is down and plays host to an entertaining light and laser show each night. The light show runs every 30 minutes - on Thursday, Friday, Saturday until 10.45pm and on weekdays every hour from 7:45pm.
Fun Fact
Burj Khalifa was originally planned to be named as Burj Dubai, but was later named Burj Khalifa in the honor of the president of UAE and current ruler of Abu Dhabi Sheikh Khalifa bin Zayed bin Sultan Al Nahyan - Abu Dhabi and the UAE government lent Dubai money to pay its debts.
---
2) Dubai Mall
💳 Free entry | 🕑 3.5 hrs - 1 day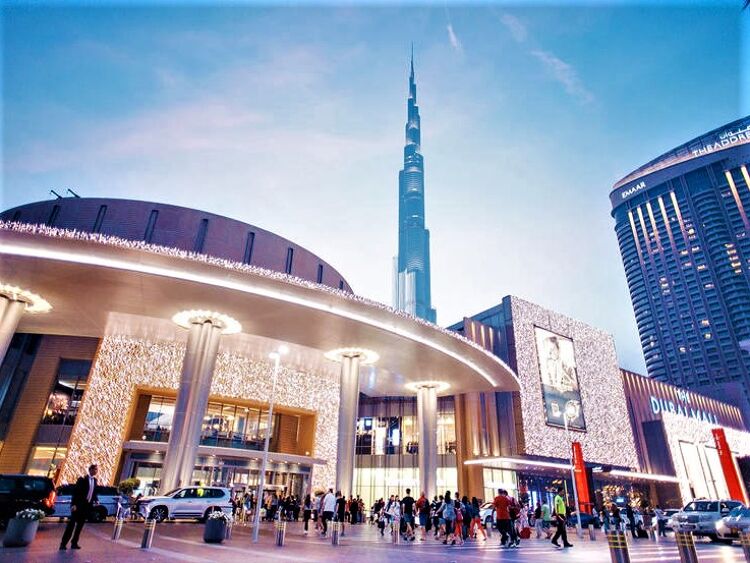 What is it?
The largest mall in the world, this 4 storeyed entertainment complex offers a wide variety of fun options to keep its visitors entertained. Goes without saying that the choices for food and retail therapy are available in abundance here, but apart from these there are tons of other interesting leisure attractions that steal the show. If you are travelling with kids, then your kid may not agree to return home with you and might want to stay here forever! Dubai mall is also home to the world famous annual Dubai shopping festival.
What to expect?
Expect to see a plethora of people here! Both the Burj Khalifa and the Dubai Mall are owned by the famous EMAAR group and hence the 2 buildings are located at super close proximity - In fact they are actually connected! The mall can keep you engaged for a whole day and even then you would not have seen half of what this mall has to offer! Such is the massiveness of it! Here are the top free things to NOT MISS while in Dubai mall.
The fountain show at the Dubai mall is free and is a vision in itself. A beautifully choreographed sequence lasting up to 5 minutes each time it starts - And for a change its not people but water dancing all around! A super fun experience while you are in and around this famous vicinity of Dubai.

Timings :

Mall timings:
Sunday - Wednesday : 10am - 11pm
Thursday - Saturday : 10am - 12am
Fountain show timings :
Everyday : 6pm - 11pm (once every half an hour starting at 6pm)
---
3) Gold Souk
💳 Free entry | 🕑 1 hr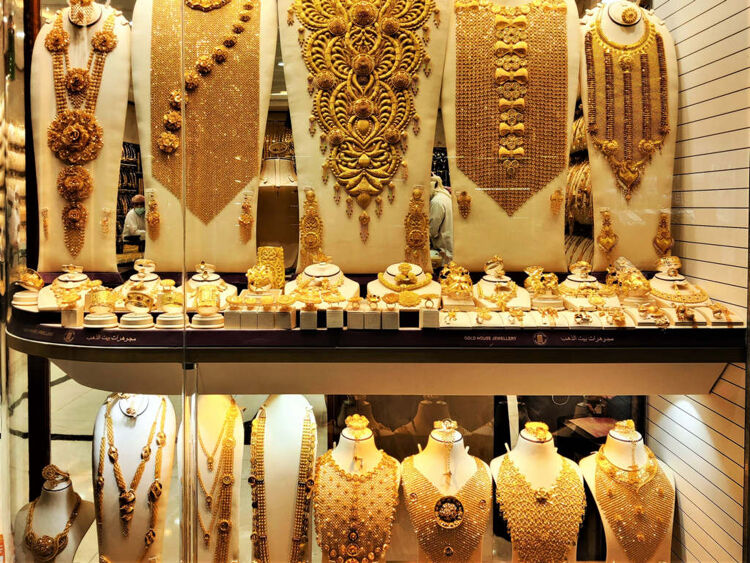 What is it?
An Arab marketplace is generally called a Souk and there are innumerable souks all around Dubai. Among them all, Gold Souk is the star crowd puller! Enclosed within 3 gates, the gold souk is a couple of narrow streets/gallis of gold, silver and diamond shops one after the other on either side of the street, displaying massive pieces of jewelry that is sure to mesmerize any visitor. One thing is for sure - All that glitters is definitely pure gold here 😉
What to expect?
From the most basic ring to a complete dress made of gold, you will find anything and everything you've ever wanted in terms of jewelry in this bazaar. Keep your eyes open and drown yourself in pure magic while you witness these crazy big stunners. Please note that the souk is filled with naggy sales personnel's promoting first hand copies of designer bags and watches and quite honestly they are pretty annoying. There are a couple of seating options available at the beginning of the gates for those who've shopped till they dropped!
---
4) Dubai Frame
💳 AED 50 | 🕑 1 - 2 hrs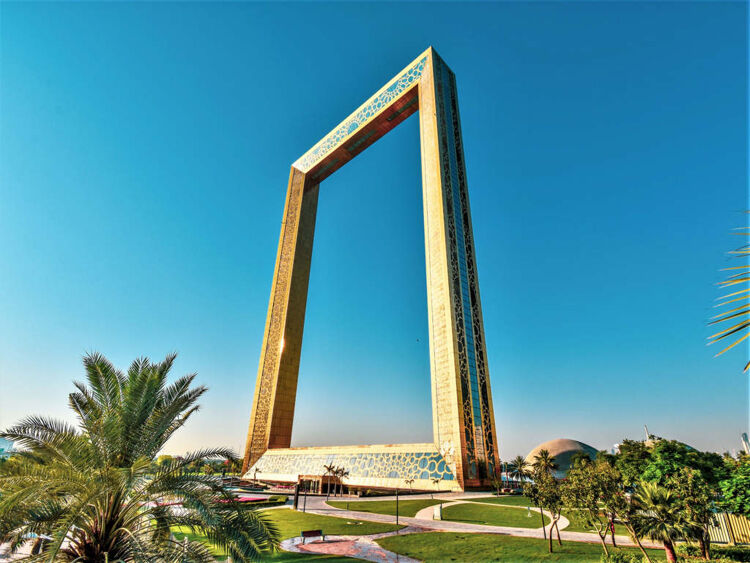 What is it?
The Dubai Frame is exactly what is sounds like. Its a huge rectangular structure located in Zabeel Park and is erected at the junction of the old and the new city of Dubai. It holds the record for being the largest frame in the world and was opened to public on the 1st of Jan 2018.
What to expect?
The two vertical pillars of the frame are elevators that take you up and down the frame. As you enter the frame the entryway welcomes you with a few stalls depicting authentic Arab culture - a typical household, a spice market and some details on the ruling family of Dubai. Once on top, visitors get to walk on the horizontal connecting pillar of the frame - The best part, as you walk what seems as an opaque surface suddenly turns into glass and you see the ground below from a height of 492ft. A thrilling 'walk of frame' for sure! There is a café on top where you could grab a few knick-knacks. As you get down the frame, you are sent to witness a 'Futuristic Dubai' 4D movie and this is something you should definitely not miss - It is part of the ticket, so no extra charge. The movie is one of the best videos we've seen so far and gives you an insight of the plans that Dubai has for its future! Truly brilliant!
As you enter the frame, you will be asked to pose with your folks for a green screen image which you can see while you exit. The photo is then edited to have the frame at the back and your smiling faces in front of it. Good photos, but they are charged at AED 70 per photo. Think wisely before buying and if you really like the picture DO NOT hesitate to bargain.

Timings :
Open all days : 9am - 9pm
---
5) Mall of the Emirates (MOE)
💳 Free entry | 🕑 3.5 hrs - 1 day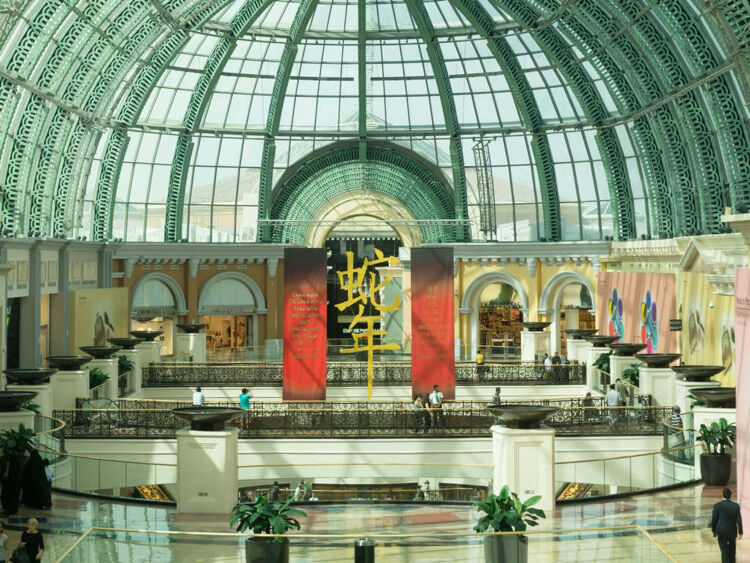 What is it?
Another famous mall in the city of Dubai, the Mall of the Emirates (a.k.a. MOE) is home to some of the most iconic brands, a large indoor skiing facility called SKI Dubai, Dubai Community Theatre and Arts Centre and VOX Cinemas. All major labels be it in the domain of clothes, shoes, watches or gadgets - you name it and you have it here! The mall also has 2 food courts offering a wide variety of options all the way from Beirut to Thailand and everything in between.
What to expect?
We spent half a day at SKI Dubai which is the indoor ski resort and snow park in MOE. A super fun place maintained at -4°C and blessed with a ton of thrilling snow rides. The ticket gives you access to a cold suit, snow boots, socks and gloves. Make sure you get a snow cap since it is not part of the ticket. A couple of sliding rides (tubes, mats), rolling down a zorb ball, a lift chair that takes you through the complete snow area, meet and greet with the penguins along with some playful tricks with them and finally skiing! A wonderful family day filled with a lot of adventure! If SKI Dubai does not float your boat, there is also a gaming center called Magic Planet within the mall that has a bowling Alley, video gaming, a climbing wall, some gravity defying games and a couple of skill games!
Timings : Mall timings:
Sunday - Wednesday : 10am - 10pm
Thursday - Saturday : 10am - 12am

Tickets : SKI Dubai tickets cost AED 170
The mall has a metro station dedicated to it and hence is very easy to get to.
---
6) Miracle Garden
💳 AED 50 | 🕑 2 - 2.5 hrs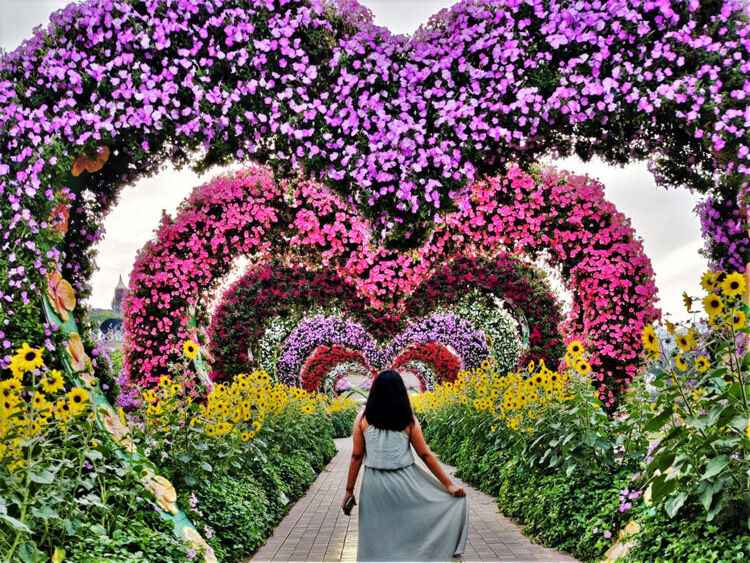 What is it?
A beautiful winter garden lasting from November to mid-May filled with fully bloomed flowers of different colors. There are multiple pathways to move through the garden with clear directions and each is blessed with a different attraction. Once the sun is down the garden is lit with the most amazing lights (not the glaring ones that blind you, but very pleasant dim lights) and hence you could cover the garden even at night!
What to expect?
Just like everything else, Dubai does not do anything at a small scale. Special floral structures are designed each year and they are HUUUGE (we expect this by now 🙄) and absolutely gorgeous. The floral 'Emirates' airplane Airbus A380 is a master piece and is the first structure welcoming you into the garden. Every corner of the garden is a photo op so come prepared with the most flowy dress that you own! A castle, dancing ballerinas, giant cartoon characters are some of the structures we got to witness! There is also an amphitheater with the backdrop of the castle and I could just imagine how dreamy a wedding/birthday party there would be!
Timings:
Sunday - Thursday : 9am - 9pm
Friday and Saturday : 9am - 11pm
---
7) Dubai Creek Harbour
💳 Free entry | 🕑 2 - 2.5 hrs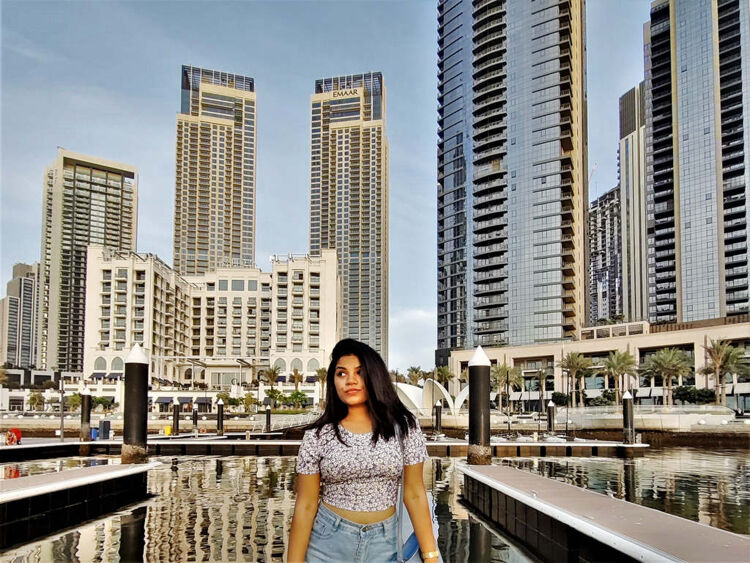 What is it?
A leisure and residential district spread across 6kms, it is a scenic waterfront on the banks of Dubai creek. Visited by tourists and locals alike, the creek harbor is more like a place to relax and drown in nature's beauty. With the harbor on one side and erected residential skyscrapers on the other, along with tons of playful structures laid to enhance the beauty of the creek, this is definitely one spot to not miss while in Dubai.
What to expect?
Tons of photo ops here - From the I ❤️️ UAE play blocks, to the artificial flamingos, the delicate lighthouse and the complete walking pathway - Visit here on an early evening and enjoy the sunset while you slurp on a Slurpee! Cruise rides are available that would take you on a 1 hour ride through the harbor all the way to the downtown part of the city. We started our ride at 5:15pm on our first day in Dubai and it was the perfect beginning to our trip. The trip away from the harbor gave us stunning views of the golden orange sunset, while on our way back all the downtown skyscrapers were flashing colorful playful lights - each building out-doing the other! That was our first view of the Dubai glam and glitz and we were absolutely thrilled! Connect your device to the speaker of the cruise and you have yourself a floating party!
A cruise ride costs AED 350 for 9 people (~40 AED per person). Again feel free to bargain and get a deal that works best for you!

Timings :
Open everyday from 8am - 11pm
---
8) Dune Bashing (Desert Safari) & Evening Camp
💳 AED 170 | 🕑 5 - 6 hrs (A complete day)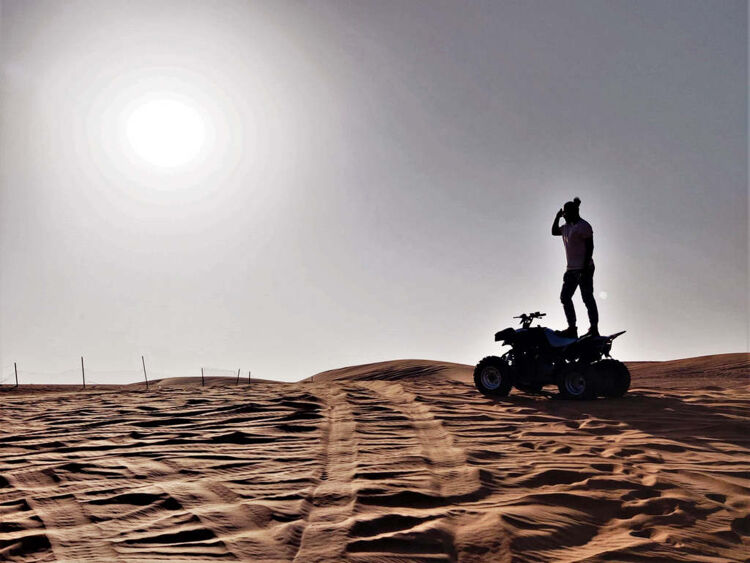 What is it?
This is the quintessential activity to try while in Dubai. A desert safari is typically a bumpy drive through the sand dunes of the desert in top speed often described as dune bashing. Extremely enjoyable and I highly recommend it! Apart from this drive, a typical desert safari day would include a self drive ATV ride/quad biking, camel ride, clicking pictures donning traditional Arabic outfits, sand boarding, and the day finally ends with a buffet dinner while enjoying authentic Arabic food, sheesha (hookah) and entertainment performances (belly dancing, fire shows are some of the highlights).
What to expect?
Many agencies run their own version of the safari and I would definitely suggest going with an authentic quality company even if its a little more expensive.
Cost Breakdown:

AED 70 package includes dune bashing, a short camel ride, Arabic clothes to wear and click photos, sand boarding and entry to the camp including buffet dinner and cultural performances. This would also include pick up and drop facility from a nearby location to your hotel.
The self driven ATV ride in the desert costs AED 100 per person for 30 minutes!

Timings:
Open all days : 1pm - 9pm
---
9) Burj Al Arab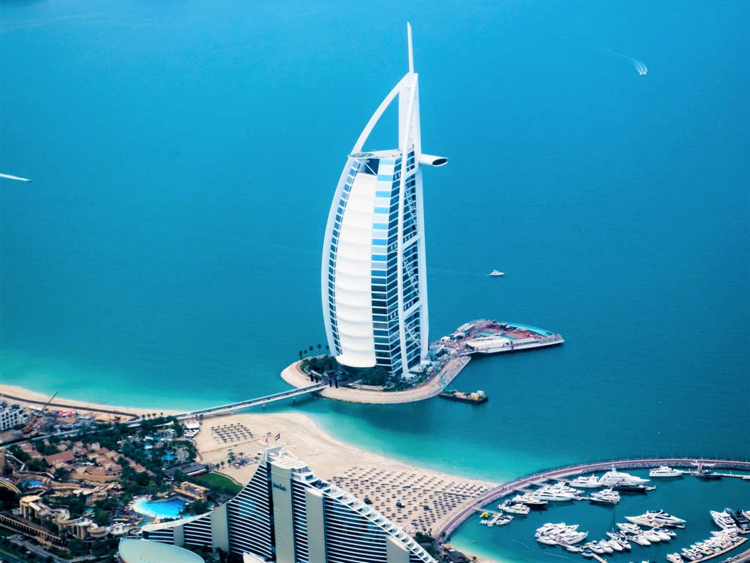 What is it?
The popular D shaped building of Dubai. Located on a manmade island 280m off Jumeirah Beach, Burj Al Arab (meaning Tower of the Arabs) is a luxurious hotel and is known to be the only 7-star hotel in the world. Measuring 321m, the hotel was opened in 1999 and was designed to resemble a ship's sail.
What to expect?
You cannot enter the Burj Al Arab unless you have either a pre-booked stay at the hotel or a table reserved in one of its 2 restaurants, both of the options sadly are excessively expensive. None the less, the Burj Al Arab dominates the skyline of Dubai and a good view of it can be caught from many of the touristy spots and beaches.
---
10) Madinat Jumeirah
💳 Free entry | 🕑 1 hr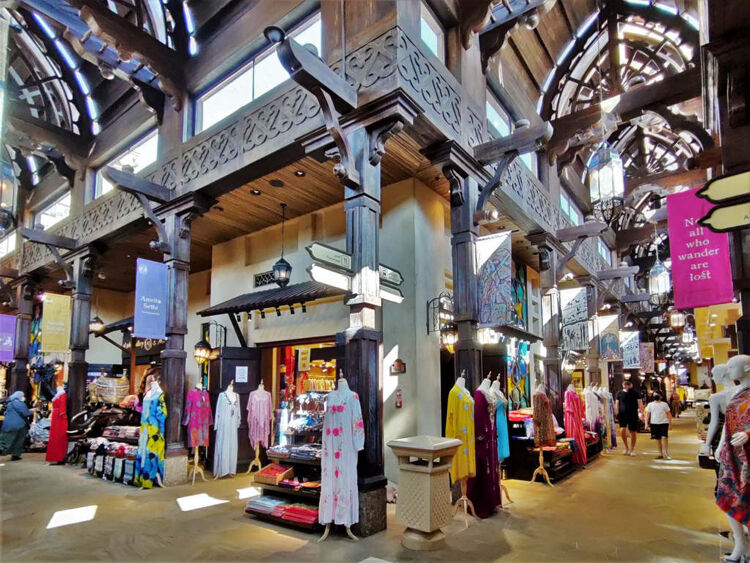 What is it?
A modern Arabic market place built in the form of a one floored mall with traditional interiors. This attraction perfectly merges modernity and culture in one place. Jewelry, Turkish lamps, carpets and artefacts are the most widely available shopping options inside.
What to expect?
As you enter the Madinat Jumeirah you are welcomed by an artificial canal lined with restaurants. A keen look and you will soon spot gondolas as well in the canal. This is in fact, a replica of the canal side restaurants of Venice and an attempt to offer a venetian getaway in the middle of the desert. Once inside, the interiors are sure to catch your eye and you get this rustic olden times vibe with a modern elegant touch to it.
---
11) Global Village
💳 15 AED | 🕑 5 hrs - 1 day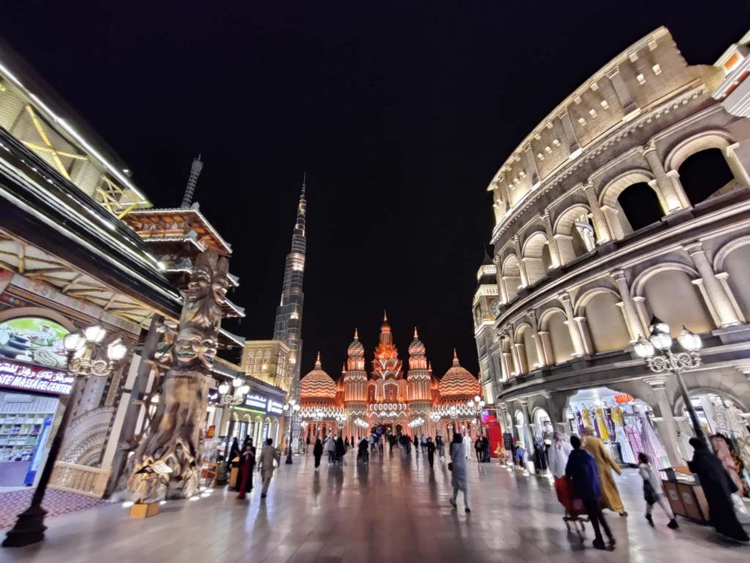 What is it?
One of my favorite things to do in Dubai - The global village is a diverse display of specialties of different countries from all over the world. A cultural extravaganza, this total lit experience houses stalls dedicated to different countries - Once you get in you feel the aura of each country. The locals of the country inside each of the stalls you get into, greet you and sell items native to their country. Most stalls also sell authentic food from their countries and if you are a foodie and enjoy experimenting with food then this is a haven for you!
What to expect?
Each country is so unique in its own right - The spectrum of differences and commonalities between all of us makes this place an unbeatable experience. The languages, the aroma, the specialty products and the beautiful smiles from all over the world - Global Village was truly an experience like no other
One of our most memorable experience was from the African stall. My husband wanted to get his hair braided the African style and there were multiple stalls offering stunning hairstyles! We finally decided on one stall and the amazing conversations we had with his beautiful Ethiopian hair dresser was a memory I will cherish for a long long time. Her stories of her childhood in Ethiopia, to how she misses her mommy, to how back in Ethiopia they have coffee sessions for 2-3 hours everyday in contrast to the quick coffee breaks in the rest of the world were some of the highlights!
---
12) Dubai Marina
💳 Free entry | 🕑 3 hr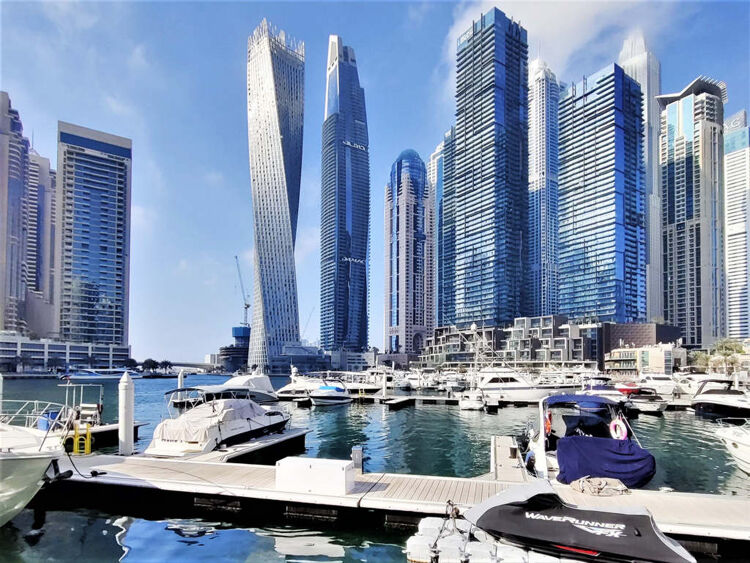 What is it?
Dubai Marina is an affluent residential neighborhood known for The Beach at JBR, a leisure complex with al fresco dining and sandy stretches to relax on. Smart cafes and pop-up craft markets line waterside promenade Dubai Marina Walk, while the Dubai Marina Mall is packed with chain and luxury fashion brands. Upscale yachts cruise through the large man-made marina, where activities range from jet-skiing to skydiving.
What to expect?
You can see the Dubai Eye from the JBR beach while you grab a cheesecake from The Cheesecake Factory here. Head for a dip in the waters or watch the sunset. The marina walk is another hotspot with local cafes dotting the place and a semi circular walking/running track through the periphery. You can also try the skydive here.
---
13) The Palm Jumeirah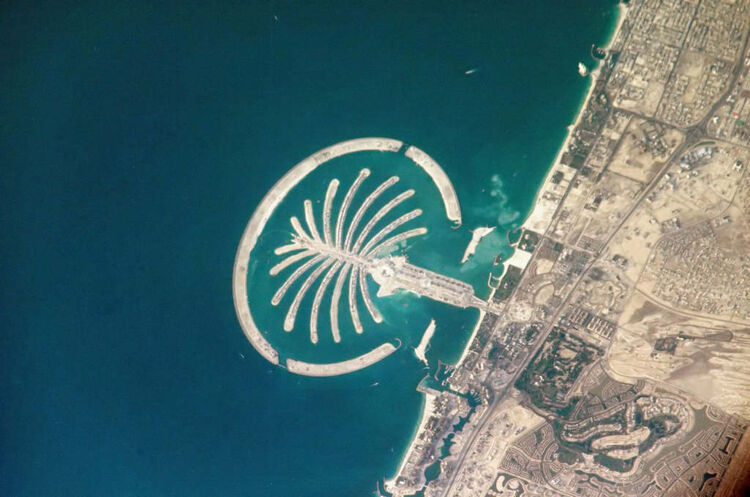 What is it?
Yet another larger than life idea executed by Dubai, the Palm Jumeriah is an artificial archipelago packed with luxury hotels, beachfront villas, and apartment buildings. It is designed in the shape of a palm tree consisting of 17 fronds and a central trunk surrounded by a crescent-shaped 11km breakwater aptly also named as the crescent road! The complete development is absurd and is undeniably a monumental feat of engineering and modern technology.
What to expect?
Atlantis is the main attraction here. The hotel is the centerpiece of the Palm Jumeriah area. Entry to it can be obtained either through the water park or the Atlantis Aquarium. The outer fringe is actually a track for walking and running which gives you the feels: running on a man-made island by the ocean.
---
14) City Walk
💳 Free entry | 🕑 2 hrs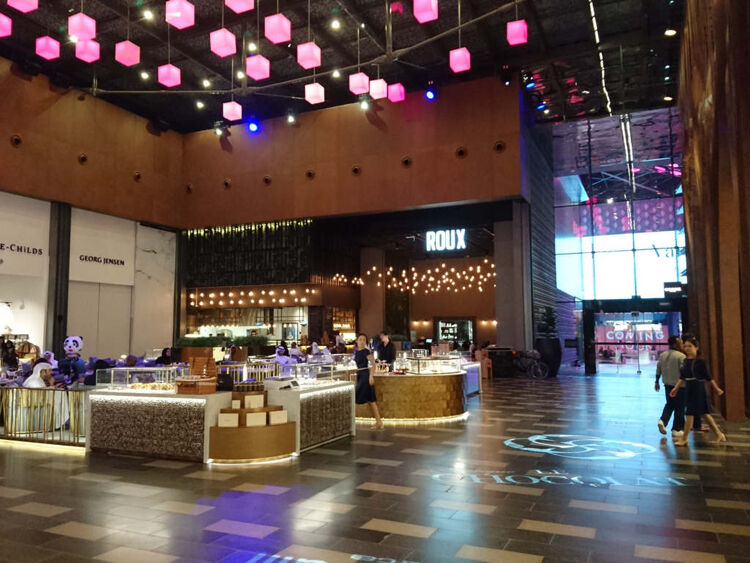 What is it?
Dubai City Walk is an open, design-inspired neighborhood in the heart of Dubai with multiple exclusive retail shops, lifestyle stores, restaurants and leisure activities set amidst residential buildings, tree-lined avenues and a dapper collection of modern street art murals.
What to expect?
Head over here on a pleasant early evening - The city walk is located at a very popular and posh locality of Dubai and provides a chic perspective to the city. You could easily spend a couple of hours here checking out the wide range of outlets while enjoying the overall vibe of the place.
---
Where to stay in Dubai?
When it comes to stay, Dubai has a range of options for everybody - crazy rich to the budget backpackers. Here's a list of the top hotels in each category.
Luxury Accommodations:
Great Accommodations:
Budget Backpacking:
Dubai Hotels Map:
---
Travel Tips

✔️ Dubai is well connected through wi-fi networks at almost all public places and cafes. Be warned though, VoIP calls eg whatsapp call, facebook call, skype, telegram won't work and you would need a calling card to call local numbers when in Dubai. (Note: Only calling is blocked. Text messages and voice messages still work)

✔️ Download Google Maps in offline mode for GPS and directions. Also download these apps for better offline coverage of Dubai Metro and Dubai Mall . You never know when these would come in handy.

✔️ Buy tickets beforehand. Prices of online tickets are lesser. Impulsive buying of offline tickets will set you back more, sometimes double than the actual cost of the ticket as Dubai promotes e-tickets.

✔️ Even though Dubai has a very open culture, please respect their ideologies. It is unacceptable and punishable to drink in public places— even beaches. Drinking in pubs and nightclubs are allowed, though.

✔️ There is no tax in Dubai except for the 5% VAT. In case you go on a shopping spree, be sure to collect the tag which will help you redeem your 5% VAT at the airport.

✔️ Dubai attracts a lot of Indian crowd, due to which there are a lot of Hindi/Malayalam speaking people.
---
Map
📌 Use the below interactive map for directions:
✔ Clicking the top right button opens the map in a new tab showing the different sections. Click on view map legend if browsing on phone✔ Save the map in your Google Maps for easy access later: Click the ⭐star button beside the name of the map. You can access the map later from Google Maps > Saved > Maps
Rihlat Saeida! :)