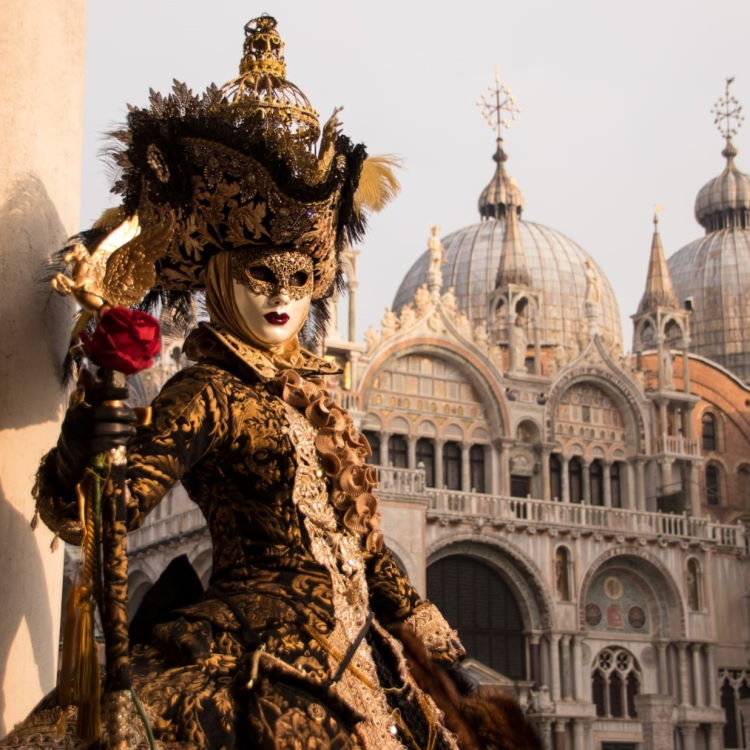 Explore Venice in 1, 2 or 3 days - There's something for everybody in this itinerary
Venice is an island and hence accommodation is expensive. If you are planning to be on the Venetian lanes and canals for the most part of your day, it's suggested to take up lodging in the mainland. Mestre is one such place and there are frequent trains running all day till midnight that will take you to Venice in 10 minutes.
Railway Station:
Santa Lucia is the main and only railway station in Venice. A brief 5-minute walk from here will take you to the main attraction of Venice - The Grand Canal. A one-way ticket from Mestre to here would cost ~1.5€.
Bus Station:
Piazzale Roma is the main bus station in Venice. A brief 5-minute walk from here takes you to the grand canal. It is adjacent to the railway station. Bus tickets are slightly more expensive than train tickets.
---
If you have 2 days in Venice …
Day 1 -
 Total Cost : 40€ (+80€ if you choose a Gondola ride) || Total Time : 8 hours

The grand canal is a natural water channel stretching 3.2km (~2.4 miles) across Venice. Lined with beautiful bridges, little cafes, churches and jaw dropping Renaissance and Gothic buildings. It has many sub-canals running perpendicular to the main one and each is a community on its own! Among all the little bridges, just 4 manage to cross over Grand Canal - try walking on at-least one of them. Take a private Gondola ride if you are feeling fancy or experience a Traghetto (cheaper Gondola) ride.
💳 Cost : Gondola ride = 80€ for a 40min ride; Traghetto costs 2€ to move about from one spot to another through the Grand Canal.
🕑 Time required : 3 hours
⌚ Timings : Open 24*7
The most famous cathedral in Venice with stunning Gothic architecture and gold detailing. A must visit. It is situated in St. Marks square. The mosaics are lit daily from 11:30 am to 12:30 pm, so this is definitely the best time to go.
💳 Cost : No charge to visit the Basilica
However these special parts located inside the Basilica : Marco Museum, the Treasury and the Golden Altarpiece charge 5€
🕑 Time required : 2.5 hours
⌚ Timings : Open all days : 9:30 am to 5:00 pm

⚠️ There is a dress code to enter - No bare arms and legs. All bags including big handbags need to be deposited before entering.
Best time to go is in the afternoon; early mornings the crowd here gets crazy. Skip the line tickets to the Basilica can be booked online for 3€.
Brick bell tower and the tallest building in Venice. At 99m height, it provides stunning views of the city. Was initially built to be a lighthouse. It is situated in St. Marks square. The best time to visit is around 8 pm - just before sunset.
💳 Cost : On the spot ticket = 8€ ; Online Ticket : 13€
🕑 Time required : 40 minutes (if you have pre-booked tickets) ; 1.5 hours (if you plan to buy tickets on the spot)
⌚ Timings : Open all days : 9:30 am to 9:00 pm (Summer) ; 9:30 am to 6:00 pm (Winter)
A doge was a nominated head of the state and the palace served as his official residence for over 1,000 years. Yet again a stunning piece of architecture that screams luxury. A must visit! It is situated in St. Marks square.
💳 Cost : 25€ - 27€
🕑 Time required : 1.5 hours
⌚ Timings : Open all days : 8:30 am to 7:00 pm
This bridge was the pathway between the interrogation unit (located inside Doge's palace) and the prison. Accused would walk via this bridge and would see the city for one last time.
💳 Cost : Part of Doge's Palace ticket
🕑 Time required : 15 minutes
⌚ Timings : Open all days : 8:30 am to 7:00 pm
6) Explore Saint Marks Square and its haute couture shops
St. Marks square is a bustling complex housing landmark buildings, offices of most tour companies, serves as the starting point of most guided tours, and is also a hangout area for locals. It is also a shopping center.
⌚ Timings : Open 24*7
---
Day 2 -
Take an island tour and visit some of the famous smaller islands of Venice. Island tours are run by various tour companies and I would highly recommend going with them rather than exploring the islands on your own. They are totally worth the money. You can book the tickets online and meet at the starting point (generally in St. Marks Square) when its time. A good option is: Island Tour Tickets
 Total Cost : 20€ || Total Time : 5 hours

Murano is the manufacturing center for Venetian glass, exporting high-quality glass in large quantities to all of Europe. You get to visit a glass factory and see a live demo where a maestro converts molten glass into beautiful souvenirs right in front of you!
Burano is famous for its lace-making industry. See and shop local lace items. The complete island is lined with vibrant colored houses and is a visual treat.
Famous for the seventh-century Cathedral of Santa Maria Dell'Assunta decorated with Byzantine mosaics and golden intrados. Torcello became the bishop's official seat for more than a thousand years.
4) Back to the Grand Canal
Sit and sip wine in the staircase of the San Simeone Piccolo. Yes this is a very Venetian thing to do, and you would see a lot of young locals hanging out here during evening times.
---
Map
📌 Use the below interactive map for directions:
✔ Clicking the top right button opens the map in a new tab showing the different sections. Click on view map legend if browsing on phone✔ Save the map in your Google Maps for easy access later: Click the ⭐star button beside the name of the map. You can access the map later from Google Maps > Saved > Maps
---
If you have another additional day in hand …
📌 Checkout Santa Maria della Salute
Beautiful church with ornate facade and towering dome. Located close to the entrance of the canal.
⌚ Timings : Open daily from 9am - 12pm and 3pm - 5:30pm
📌 Visit Palazzo Corner della Ca' Grande
Was home to the Corner family - one of the wealthiest families in Old Venice. Now serves as the home of the Provincial government and State Prefecture.
📌 Visit Lido Islands
A tiny beach island, known for its peaceful atmosphere and sports resorts. Not very crowded and is most famous for hosting the annual Venice film festival.
📌 Walk over the Ponte dell'Accademia
One of only four bridges to span the Grand Canal. This wooden bridge was initially built as a temporary replacement to the then iron bridge, but people loved it so much that it never got replaced.
⌚ Timings : Open 24*7
📌 Walk over the Rialto Bridge Oldest and the most famous of the four bridges spanning the grand canal. Has made an appearance in a lot of movies!
⌚ Timings : Open 24*7
📌 Walk over the Spanish design inspired Constitution Bridge
The newest of the four bridges spanning the Grand Canal. It is a glass and steel modern-looking bridge and looks very different from any of the other bridges in Venice. Opened in 2008 amidst protests from the general public.
⌚ Timings : Open 24*7
📌 Check out the local fish market
Called Mercati di Rialto/Rialto market, it is situated very close to the Rialto bridge. It is a famous market place where locals buy their daily produce (fish, flowers, fruits, and vegetables).
⌚ Timings : It is open daily except on Sundays from 7.30 am -1.30 pm. Fish markets are closed on Mondays.
If you ONLY have one day in hand …

Try to have an early start and get to the St. Marks Square first. Visit St. Marks Basilica and Doge's Palace in detail. See the Campanile Tower from outside. Spend time at the grand canal - Walk on some narrow alleyways, hop on some bridges and have a nice meal in any of the dainty cafes by the water.
Buon Viaggio! :)