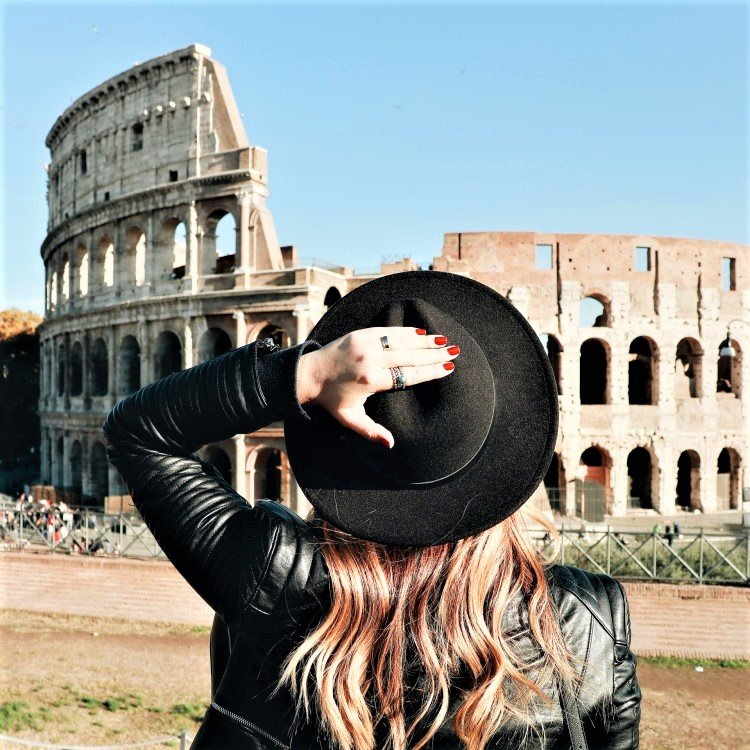 Explore Rome in 1, 2 or 3 days - There's something for everybody in this itinerary
Rome is a relatively small city and you could just walk around and explore most of the touristy sites. If walking is not your cup of tea, then worry not! Rome boasts of an excellent public transportation system and you could choose to use the bus, tram or metro. It is best to stay close to the Colosseum as this is the southern most site and is a good starting point.
If you have 2 days in Rome:
Day 1 -
 Total Cost : 24 € || Total Time : 9 hours

The Colosseum is one of the 7 wonders of the world. It was built to be used as an indoor amphitheater for events like Gladiator fights, animal hunts, executions, re-enactments of famous battles, and dramas based on mythology. An earthquake in the 13th century is the main reason for the damaged structure.
It is a humongous erection with a lot of interesting details and it will take the better half of the day to explore. Here's a free audio guide by Rick-Steve and is an alternate version of the otherwise paid audio tour.
💳 Cost : 14 € (Highly recommend buying your tickets online. On the spot tickets have waiting period of almost an hour)
🕑 Time required : 3.5 hours
⌚️ Timings : Winters - 9 am to 5 pm ; Summers - 9 am to 6:30 pm
Striking white monument built in the honor of unified Italy's first king Victor Emmanuel II.
💳 Cost : Free (Ticket of 7€ can be bought at the entrance for elevator usage to get to the terrace)
🕑 Time required : 1 hr
⌚️ Timings : Winters - 9:30 am to 4:30 pm ; Summers - 9:30 am to 7 pm
3) Palazzo Venezia
Best known for housing the famous Italian dictator, Mussolini's office. The balcony in the palace overlooked the Piazza Venezia and was used by him to deliver most of his famous speeches. Inside the palace, you can find many different items, from Renaissance paintings to polychromatic wood sculptures, tapestries, weapons, armour, and terracotta sculptures.
💳 Cost : 10 €
🕑 Time required : 1.5 hr
⌚️ Timings : Winters - 9:30 am to 4:30 pm ; Summers - 9:30 am to 7 pm
4) Campo de' Fiori
One of the main squares of Rome and was frequented by historic figures. Public executions took place here. By day it hosts one of the city's best-known markets; by night it transforms to a lively meeting place with its bars and restaurants, musicians and street artists. Stop here to have a scrumptious Italian lunch.
💳 Cost : Free
🕑 Time required : 1 hr
⌚ Timings : Open 24*7
Ancient Roman temple dedicated to all Roman Gods. The temple was later converted to a church dedicated to the Virgin Mary and martyrs.
💳 Cost : Free
🕑 Time required : 1 hr
⌚ Timings : Monday – Saturday: 8:30am – 7:30pm; Sunday: 9am – 6pm
World famous fountain with the statue of Oceanus known for its custom of coin throwing. Has been featured in multiple movies.
💳 Cost : Free
🕑 Time required : 1 hr
⌚ Timings : Open all days 7:00 am - 10:00 pm
---
Day 2 -
Day 2 concentrates mostly on Vatican City sites.
 Total Cost : 14€ || Total Time : \~8 hours

1) Piazza Navona
Famous Baroque styled vibrant complex in Rome. It has three fountains, a couple of churches, intricate sculptures and is lined with pretty eateries. It is popular among musicians and artists. Good spot to grab some lip smacking breakfast.
💳 Cost : Free
🕑 Time required : 1 hr
⌚ Timings : Open all days 7:00 am - 10300 pm
2) St. Peter's Basilica
The holiest of churches for Christians to visit. Often termed as "the greatest church in Christendom". It is also believed to be the burial place of Saint Peter, who was the first bishop of Rome. The interior is filled with Renaissance masterpieces from famous artists. On Wednesdays, the pope holds a meet and greet here with the general public called the "Papal Audience".
💳 Cost : Free
🕑 Time required : 2 hours
⌚️ Timings : 7 am to 6 pm
⚠️ Strict dress code needs to be followed to enter the basilica. No bare arms and legs for both men and women.
Try to reach the basilica by 6:45 am to get in early. 7 am - 9 am is the best time to visit. After 9 am the crowd gets crazy and waiting time can go upto 2 hours. If you have booked group guided tours to the Vatican museum and Sistine chapel, then the basilica is the end point of the tour and you could avoid the crazy lines that way.
3) Sistine Chapel
As the pope's own chapel, it is the site of all principal papal ceremonies including electing and inaugurating new popes. It is most famous for its ceiling fresco paintings painted by the legend Michael Angelo. The art and the complete room is breath-taking. A must visit! You are sure to go 😳
💳 Cost : Part of Vatican Museum ticket
🕑 Time required : 30 minutes
⌚️ Timings : 9 am to 6 pm
⚠️ Photography is strictly prohibited inside the chapel
4) Vatican Museums
A must visit! Definitely one of the best museums in the world. A galore of history, culture and art. Each room is better than the previous one. Do recommend taking a guided group tour as there are too many details that you do not want to miss out on.
💳 Cost : 14 €
🕑 Time required : 2.5 hrs
⌚ Timings : Monday – Saturday: 9am – 6pm; Sunday: Closed except the last Sunday of each month: 9am – 2pm
5) St Angelo Bridge
Historic white colored stone bridge connecting the Sant'Angelo castle to the main city. It spans River Tiber flowing under. It is a pedestrian bridge with 10 statues in its entire stretch. It is a symbol of Rome and appears in postcards.
💳 Cost : Free
🕑 Time required : 15 minutes
---
Map
📌 Use the below interactive map for directions:
✔ Clicking the top right button opens the map in a new tab showing the different sections. Click on view map legend if browsing on phone✔ Save the map in your Google Maps for easy access later: Click the ⭐star button beside the name of the map. You can access the map later from Google Maps > Saved > Maps
---
If you have another additional day in hand ….
📌 Spanish Steps (30 minutes)
Set of steep steps that connect the Spanish Plaza (Piazza di Spagna) and the Roman Catholic church of Trinità dei Monti, which was under the guardianship of the then King of France.
📌 Go to Villa Borghese, rent a segway and checkout Pincio Promenade (2.5 hrs)
Villa Borghese is known to be the largest park in Rome. It hosts several buildings, temples, fountains, a lake and acres of lush greenery. Pincio promenade is a viewpoint in one of the entrances of the Villa Borghese area.
📌 Visit Piazza de Popolo (1 hour)
Another famous plaza in the city popular among locals.
If you ONLY have one day in hand ….

Try to have an early start and get to the Colosseum first. Quickly walk through Roman Forum and the Palatine Hill. Head over to the Pantheon and then to Trevi Fountain. Finish off with visiting Altar of the Fatherland and wind down at Piazza Navona. Keep an eye out for the many street performers, human statues and artists all around the city!
Buon Viaggio! :)