Top Places to see in and around The Grand Canal
What is the Grand Canal?
It is a natural water channel in reverse S shape, stretching almost 3.2km (~2.4 miles) in length and is the most used canal among the 150 canals in Venice. The canal divides the city into two parts and is 16 feet deep. On either side, there are buildings of historic significance, Renaissance and Gothic palaces, churches, cafes and residential areas.
Apart from the main stretch, there are hundreds of smaller canals running perpendicular to the Grand Canal and each is a community in its own. The smaller canals have their own smaller bridges, pathways, smaller and less expensive family-owned eateries, old residential buildings where the locales live and thrive. These lesser crowded portions of the Grand canal turn into mazes when you walk through them. Narrow streets and most looking very similar you sure are to get lost in this crazy inter-connected alleys and trust me that's the fun part!
How to explore the Grand Canal?
There are different forms of boats available that helps the public get from one spot to the other throughout the canal.
Walk
You would end up walking to a lot of the places that is accessible by walk in the canal. This is a great way to explore the canal and take it in all it has to offer. You technically need a boat only when you have to cross over the canals and no bridge/walking path seems to be in close distance.
Gondola
A gondola is the famed Venetian romantic ride with a boatman riding a single person, a couple or a family in a decorated long tan boat. A ride generally lasts about 40 minutes. You ride through the canal, under bridges and across palaces. The boatman sings traditional folk songs for the guests adding to the romance in the air. A 40 minutes Gondola ride costs €80.
Traghetto
A traghetto is essentially a cheaper gondola. Its the same boat as the gondola but is stripped of its fancy trappings and seating to provide standing room and narrow benches thus taking away the privacy you get in gondolas. Traghettos has various stops throughout the canal and passengers can get in and get out from any one of these stops. Since you stand and travel in this narrow boat, your balancing skill are tested and many a time you would wobble around making for some good laughs! Definitely worth a try! It charges €2 from one stop to the other.
Vaporetto
The Vaporetto is a Venetian public waterbus. There are 19 scheduled lines that serve locales within Venice, and also helps travel between Venice and nearby islands, such as Murano, Burano, and Lido. A single trip on a Vaporetto costs €7.50 (valid for 75 minutes), whether you take the boat for one stop or for a whole Grand Canal tour.
What to see in the Grand Canal?
Bridges of Grand Canal
A total of 4 bridges cross over the grand canal and each is different and is a beauty on its own. I would highly recommend walking on each one of these if time permits, however a trip to Venice is incomplete if you do not cross over at least one of them.
📌 Rialto Bridge (built in 1588) :
Oldest of the four and the most famous. It is an enclosed white stone arch bridge and the main Venice market, Mercati di Rialto takes its name after the bridge.

📌 Ponte degli Scalzi (built in 1934) :
Translates to "Barefoot Bridge". It is a concrete arch bridge located in front of the main train station in Saint Lucia. On the left bank is the Church of Barefoot Monks, hence the name Barefoot Bridge.
📌 Ponte dell'Accademia (built in 1985) :
Gets its name from the Accademia galleries close by and is an open wooden bridge. The Austrians (who had occupied Venice since 1815) first built it as an iron bridge. It was replaced by a "temporary" wooden bridge since the construction was lacking stability, but proved so popular with Venetians that it was never replaced by a stone one as intended.
📌 Constitution Bridge (built in 2008) :
It was built by a Spanish architect and was criticized for its highly modern design and was told to be a misfit among the other elaborate designs and patterns from past periods. Its skeleton is made of steel, while the steps and parapets are made of tempered glass and marble.
---
Important Landmark monuments in Grand Canal
These are in the order as they appear when you enter from the Santa Lucia railway station.
📌 San Simeone Piccolo
San Simeone Piccolo is the first giant monument in the grand canal to catch your attention with its spectacular teal oval cup dome. Built in the Neoclassic style, the architecture of this church reminds you of the Pantheon in Rome with the pillared porch at the entrance.
The interiors are simple and elegant with multiple altars and paintings. There is an amazing crypt under the church. There is no natural lighting that enters this place and you are given a candle for €2 which you could use to explore this beautiful crypt full of frescoes. It takes you in a dark journey into medieval ages. Quiet an incredible experience! Also the fleet of staircases at the entrance is used as a seating area by tourists and locales in the evenings. You will find couples and friendly groups catching up and having a snack or a glass of wine while enjoying the view of the grand canal in front of them!
Pro-Tip
Visitors are allowed to climb the dome. Inquire inside for the same. On top you get to see some mind blowing panoramic views of Venice.
---
📌 Santa Maria Di Nazareth
Next we come across one of those churches that you should absolutely not miss while in Venice. Its also called the Church of the Scalzi (Scalzi means barefoot in Italian). Ponte degli Scalzi is located in front of it and gets its name from this very church.
Elegant and richly decorated, this Roman Catholic church has a mesmerizing white facade with 2 tiers of statues and pillars all over. Its incredibly stunning interiors steals the show - take time to get hypnotized by the extremely rich frescoes by Tiepolo, altar by Pozzo, paintings and sculptures by numerous renowned artists. There are 4 chapels inside - Chapel Mora, Chapel Ruzzini, Chapel Manin and Chapel Venier. The last Doge of Venice (Ludovico Giovanni Manin) is buried in chapel Manin. Overall its a church full of positive energy.
---
📌 Palazzo Flangini
Next up is The Palazzo Flangini which is a Baroque styled unfinished palace. The palace was constructed in late 17th century to a design attributed to the architect Giuseppe Sardi. The palace was built by the wealthy Flangini family, a Greek Cypriot family in Venice. One of their members, Thomas Flanginis, in 1626 was the patron for the Flanginian school, a Greek school in Venice. The last of the family to own the palace was the cardinal Luigi or Ludovico Flangini. By the end of the 18th century, the palace was occupied by the Panciera family. It is believed that at some time the family was unable to purchase the adjacent property and that the original plans called for a palace of twice the size and hence its described as the "unfinished palace".
Recommend identifying and admiring the palace from the boat while sailing through the canal.
---
📌 Peggy Guggenheim Collection
---
📌Palazzo Grassi
---
📌 Chiesa Di San Geremia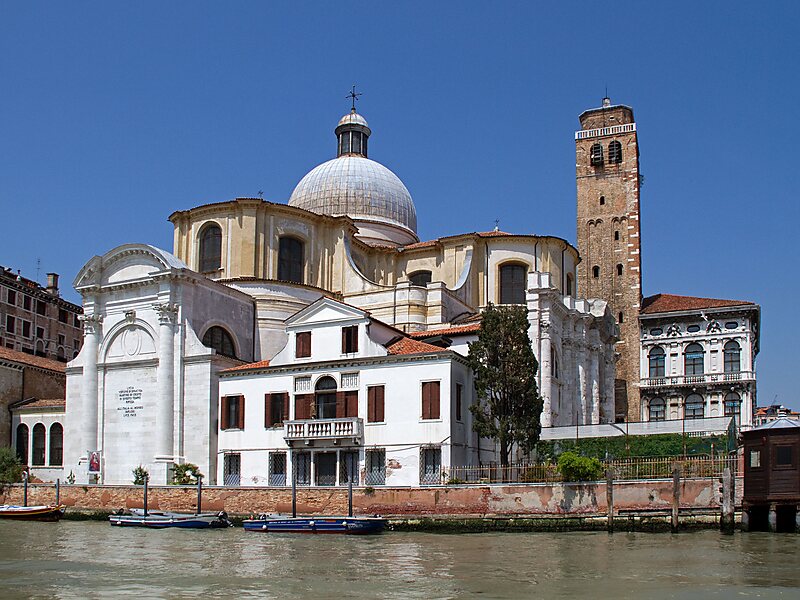 Further down we are encountered by yet another beautiful Roman Catholic church, popular as the seat of the cult of Saint Lucy of Syracuse, whose remains are housed inside. Not only the church, but the square that its located in is also considered holy. The mummified body of Saint Lucia is displayed here in a glass urn. The relics were carried here in 1861 when the nearby church dedicated to her was demolished. In 1955 Angelo Roncalli, future Pope John XXIII and then Patriarch of Venice, had a silver mask put on the saint's face to protect it from dust. The saint's body was stolen on November 7, 1981, but was restored in December of the same year without any ransom.
---
📌 Natural History Museum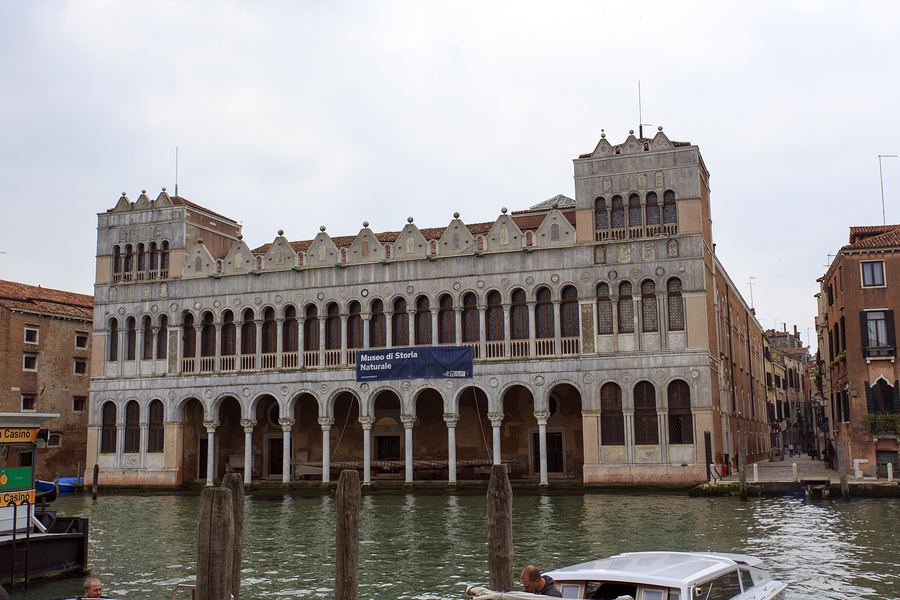 This museum is loaded with information on nature. Very thoughtfully presented artifacts and fossils - This is an amazing educational tour for all age groups. If you want a little break from looking at the extraordinary Italian architecture, then this would be a good choice. The museum is not very big and worked perfect for us. A lot of the animals are preserved mounting or stuffing making them look very life like. Entry tickets cost €8. All information displayed is in Italian - an English audio guide is available and I recommend buying it - you do not want to miss all the rick information the museum has to share once you visit it.
---
📌 Venice Casino (Casino di Venezia)
If you feeling rich and are in the mood to gamble, then you are in the right place! Casino di Venezia is the oldest casino in the world and that itself is reason enough to go check it out. Entry costs €10 and as long as you are gambling low stakes and just having fun playing the games, this is well worth a visit! Go in to feel the old world charm.
---
📌 Rialto Market (Mercati di Rialto)
To understand the daily life and culture of any place, a local market is a must-visit. I highly recommend checking it out and getting a perspective of commerce in Italy. A Venetian market where the locals make way every day to stock on their daily needs. It is a short walk northwest of the Rialto Bridge. Fish, flowers, fruits and vegetables are some of the common items sold. There are other smaller markets in and around this area selling a lot of interesting items.
---
📌 Accademia Gallery
An exquisite museum filled with beautiful artwork and statues that have been preserved for hundreds of years! Most pieces revolve around religion and the renaissance period and is very detailed. Each piece drags the viewers attention vividly and you can't stop but admire in awe. The museum is huge and has around 25 rooms. You would easily spend 2-3 hours here. Some of the most famous artworks to see here are - The Vitruvian Man by Leonardo da Vinci, martyrdom of Ursula and works by Tintoretto and Bellini. Entry tickets cost €12 and architecture and art students get a huge reduction! Guided tours are available too that would give you a better understanding and perspective of each artwork.
---
📌 Palazzo Corner della Ca' Granda
This palace was home to the Corner family - one of the wealthiest families in Old Venice. It was built to replace a family palace that had been destroyed by fire in the 1530s. Corner family was one of the most important families in Venice which produced 4 doges and the great queen of Cyprus: Catherine Corner. It is said that they had eight palaces on the Grand Canal at different times, including Palazzo Corner della Ca' Grande. It is located close to the St. Marks square and is a 10-minute walk from there. Like all other palazzos in Italy, this one was built to impress. Its grandeur justifies the power of the people that once lived in it. It is a tall white almost square tiered building with columns and small arches all across its exterior. It currently serves as the home of the Provincial government and State Prefecture.
---
📌 Teatro La Fenice
A Grand Opera house, it is one of the most famous and renowned landmarks in the history of Italian theatre and in the history of opera as a whole. There are 2 things you could do here -
- Take a tour of this magnificent 3 floored opera house for €10. You are given an audio-guide that takes you through each detail of the site including how it had once caught fire and got completely destroyed and was rebuilt all over again. This was a wonderful experience for us. If you are lucky you would get to see some behind the scenes action, artists practising, fittings etc!
- The timetable of the opera performances are displayed in the lobby area. Being one of the oldest theatres, the execution of the performances are top-class. You are taken back in times and enthralled by the performers. Highly recommend attending one!
---
📌 Multisala Rossini
How fun would it be to catch an Italian movie in an Italian theatre? Multisala Rossini is an old school multi-lingual cinema hall. Follows a first come first serve policy and hence all seats are equally charged! English movies are played on Wednesday, while all other days are reserved for local language movies. There is no snack bar inside - you are allowed to get your own food and drinks and enjoy the movie!
---
📌 Santa Maria della Salute
It is a baroque style Roman Catholic Church dedicated to the Virgin Mary and it translates to Saint Mary of Health. It was built in gratitude by the people of Venice when their prayers were answered by withdrawing Venice from the horrendous plague of 1630 that killed a third of its population. Hence it is also called the "Plague Church". The exteriors of the church is grand and is richly decorated with four statues of the apostles and the main dome towers above the skyline. One cannot miss spotting it near St. Marks Square it on the grand canal. The Basilica's interior is octagonal with small chapels on each side of the building. Although the interior decoration is quite plain compared to its exterior look, there are several impressive paintings by Titian and Tintoretto.
---
Map
📌 Use the below interactive map for directions:
✔ Clicking the top right button opens the map in a new tab showing the different sections. Click on view map legend if browsing on phone✔ Save the map in your Google Maps for easy access later: Click the ⭐star button beside the name of the map. You can access the map later from Google Maps > Saved > Maps
Buon Viaggio! :)