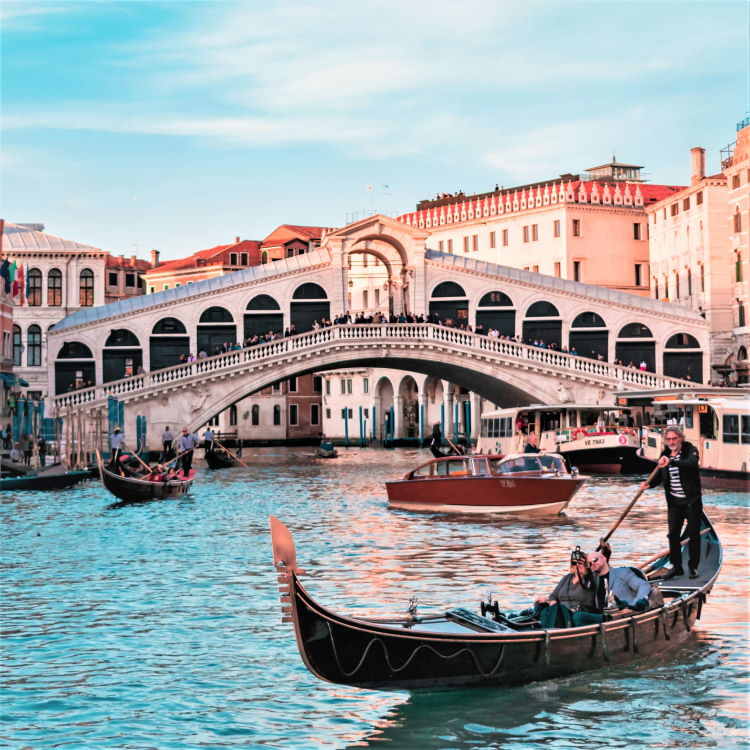 Venice - The Haven of Canals
This Guide Contains
Interactive Map with Day Plans
Venice, an island city in eastern Italy is known to be the most romantic places on Earth. It is a group of 180 small islands in the Adriatic Sea connected together by canals. No roads in this city! Water all around, boats, gondolas, bridges, pizzas, outstanding cathedrals, bell tower and palaces - Venice is a piece of heaven. At night the city is teeming with golden lights and words cannot describe how beautiful this place looks!
Being an island city, accommodation is expensive here. If you are planning to be on the Venetian canals for the most part of your day, I would recommend you take up lodging in the mainland. Mestre is one such place and there are frequent trains running all day till midnight that will take you to Venice in 10 minutes. We stayed in a palatial suite in Mestre and trust me it was very reasonable.
This article walks through each of the sites you must cover while in Venice, a brief explanation of what it is and what you could expect along with how much money and time you would be spending in each place. I've also created a day-wise itinerary (with fewer details on what the sites are) to help you split your days and time effectively. Reading both would give you a good idea of how to go about covering all your Venetian top to-do's and equip you with enough information and prepare you for what's in store!
(Map included at the bottom of the article)
---
🥘 What should I eat?

🍛Mozzarella en Carrozza - a warm and stringy core of mozzarella, enclosed in a crunchy breadcrumb coating.
🍛 Squid Ink Spaghetti - A venetian favourite black ocean-flavored delicacy
🍨 Tiramisu - Coffee-flavoured Italian layered dessert.

🥃 What should I drink?

🍷 Venetian Aperol Spritz - Italian wine-based cocktail made of prosecco, Aperol and soda water
🍷The Bellini - Cocktail made with Prosecco and peach purée or nectar that originated from Venice
---
---
1) Grand Canal
 💳 Free  | 🕑 3 hrs

What is it?
It is a natural water channel in reverse S shape, stretching almost 3.2km (~2.4 miles) in length and is the most used canal among the 150 canals in Venice. The canal divides the city into two parts and is 16 feet deep. On either side, there are buildings of historic significance, Renaissance and Gothic palaces, churches, cafes and residential areas. Read our article on the top places to see in the Grand Canal to decide what best interests you.
Try taking a gondola or a traghetto (cheaper gondola) ride to explore around. A gondola ride costs 80€ for 40 minutes, while a traghetto ride charges 2€ to get from one spot to another. It is the best way (other than walking) to explore the canal.
A total of 4 bridges cross the canal and each is a beauty on its own. Try walking on at least one of them.
📌 Rialto Bridge (built in 1588) :
Oldest of the four and the most famous. It is an enclosed white stone arch bridge and the main Venice market (Mercati di Rialto, a 3-minute walk from here) takes its name after the bridge.
📌 Ponte degli Scalzi (built in 1934) :
Translates to "Barefoot Bridge". It is a concrete arch bridge located in front of the main train station in Saint Lucia. On the left bank is the Church of Barefoot Monks, hence the name Barefoot Bridge.
📌 Ponte dell'Accademia (built in 1985) :
Gets its name from the Accademia galleries close by and is an open wooden bridge. The Austrians (who had occupied Venice since 1815) first built it as an iron bridge. It was replaced by a "temporary" wooden bridge since the construction was lacking stability, but proved so popular with Venetians that it was never replaced by a stone one as intended.
📌 Constitution Bridge (built in 2008) :
It was built by a Spanish architect and was criticized for its highly modern design and was told to be a misfit among the other elaborate designs and patterns from past periods. Its skeleton is made of steel, while the steps and parapets are made of tempered glass and marble.
What to expect?
This would be one of the most stunning places you would see in your life. At night this place is out of the world. We explored the complete canal, walked on all the 4 bridges and picked up small munchies from the many small eateries we came across. We hopped on a Traghetto when there was no walkway. There are many smaller canals running perpendicular to the main canal. You would come across the most narrow streets ever on either side of the canal, houses of local people and pathways turning into mazes! Bring along a bottle of wine and local food and dip your feet in one of the smaller canals and talk the night away. I would suggest getting to the canal around 5 pm and spending about 3-4 hours here.
Timings:
🕔 Open all days : 9:30 am to 5:00 pm

How to get there?
🚶‍♂️ Once you reach Santa Lucia railway station or the Piazzale Roma bus station , the grand canal is just a 5 minute walk from both these places.
---
2) St Mark's Basilica
 💳 Basilica : Free ; Marco Museum, Treasury & Golden Altarpiece : 5 € | 🕑 2.5 hrs

What is it?
This stunning masterpiece is known to house the relics of Saint Mark, which was apparently stolen by Venetian traders from Egypt. It has been nicknamed the "Church Of Gold" and rightly so. The gold detailing both in the exteriors and interiors of the church is breath-taking. It was used by the Doge as his private chapel for centuries until it became the city's cathedral. One must visit to truly appreciate the intricate details throughout the structure.
What to expect?
Beautiful architecture from the Italo-Byzantine style characterized by golden mosaics. The cathedral's exterior looks majestic with five domes and the interiors look spectacular with gold mosaics. The mosaics are lit daily from 11:30 am to 12:30 pm, so this is definitely the time to go. The glitter and beauty of the artwork is emphasized by the lights. The altar of the basilica with the remains of St Mark the Evangelist has some stunning artwork around it. The building is filled with sculptures and religious objects.
Timings:
🕔 Open all days : 9:30 am to 5:00 pm

How to get there?
From the grand canal, there are 2 options : Walk or take a boat ride.
🚶‍♂️ Walking is a good option as you get to check out the pretty little alleyways and get to pass through multiple communities. But I must warn that the way can get pretty confusing even with google maps! The streets turn into mazes. It is supposed to be a 25-minute walk but we took an hour and got lost many times :)
⛵ Use the Line 1 vaporetto (public water bus) and get off at San Marco stop.

⚠️ Shorts and mini-skirts, sleeveless or short tops are not allowed (no bare arms or bare legs).
---
3) St Mark's Campanile Bell Tower
 💳 Ticket : 13 € | 🕑 1 hr

What is it?
It is a brick bell tower and the tallest building in Venice. Built initially in the 9th century it primarily served as a lighthouse. It used to have 5 huge bells, each of which served a special purpose and had a different octave tune. One rang to notify an execution, another rang during mid-day, the third one rang to declare the Senate's session, the fourth one to call members to the council meeting and the biggest bell rang to mark the beginning and end of a workday.
Between the 13th and 14th century it suffered serious damages attributed to lightning. Restoration work progressed through the 15th century with the addition of a golden Archangel Gabriel to the top of the tower that served as a compass. In 1902 the whole structure collapsed after some dangerous cracks had made way. Finally, in 1912 the structure that we see today was inaugurated. There is just one bell left in the tower which is said to be made with the amalgamation of the remains of the old bells.
What to expect?
An elevator takes you to the top of the tower. Thanks to the tower's 99m height, it provides stunning views of the city – the signature domes, the numerous small islands of Venice, boats and ships sailing happily in the Adriatic Sea. The queue gets bigger after 11 am and during the evenings. We went in at about 8 pm, just an hour before sunset and the queue was not that crazy. We were lucky to catch the bell ring!
Timings:
🕔 Open all days : 9:30 am to 9:00 pm (Summer) ; 9:30 am to 6:00 pm (Winter)

How to get there?
🚶‍♂️ It is located opposite St Marks Basilica, so just a 2 minute walk.
---
4) Doge's Palace
 💳 25 € - 27 € | 🕑 1.5 hrs

What is it?
A doge was an elected chief of state in Italian states during the Renaissance period. The palace used to be the home of the Doge and also a meeting point for Venetian dignitaries and administrators and continued to be so for over 1,000 years.
What to expect?
A super lavish palace with ornate details awaits you. The exteriors are stunning with beautiful white arch columns and an open hallway. Most walls are patterned bricks on the ground floor and the other floors have heavy paintings and artwork all across the walls. The grandeur of the palace justifies how powerful the Doge used to be back in the days.
Timings:
🕔 Open all days : 8:30 am to 7:00 pm

How to get there?
🚶‍♂️ A 3 minutes walk from St. Marks Campanile Tower
---
5) Bridge Of Sighs
 💳 Part of Doge's Palace ticket  | 🕑 15 mins

What is it?
The building towards the left of the bridge was an interrogation unit (located inside Doge's palace) and towards the right was the prison. Any accused person was subjected to intense questioning in the interrogation room. Post the session, if found guilty then he/she was taken to prison via this bridge. This would be their last sight of the beautiful city of Venice and freedom was a long way ahead – Hence the name!
What to expect?
Walking on the bridge I could not help but imagine a prisoners state of mind through the interrogation and then the journey to the prison. The bridge does give you some crime movie vibes and a different view of the city through the stone bar windows.
Timings:
🕔 Open all days : 8:30 am to 7:00 pm

How to get there?
🚶‍♂️ A 3 minutes walk from St. Marks Campanile Tower
---
6) Islands Of Venice - Murano, Burano and Torcello
 💳 20 €  | 🕑 5 hrs

What is it?
Murano, Burano and Torcello are 3 of the most beautiful islands in Venice. Multiple companies run half-day tours to these islands. I would recommend taking one of these tours. These cost somewhere between 20 € to 25 €, almost one third the price of a 40 minutes Gondola ride.
What to expect?
I have a separate post about our tour to these islands and why you should visit too!
Read more: Top Venice Islands - Murano, Burano & Torcello
How to get there?
- If you have a booked tour ticket, head to the starting point mentioned in the booking (generally around St. Marks Square)
⛵ If you plan to explore on your own, you could take the direct ferries from Fondamente Nove terminal. It is a 15 minutes walk from St. Marks Basilica. Lines 4.1, 13 and B head to Murano. It costs 8€.
---
7) Santa Maria della Salute
 💳 Free | 🕑 1 hr

What is it?
It is a baroque style Roman Catholic Church dedicated to the Virgin Mary and it translates to Saint Mary of Health. It was built in gratitude by the people of Venice when their prayers were answered by withdrawing Venice from the horrendous plague of 1630 that killed a third of its population. Hence it is also called the "Plague Church".
The exteriors of the church is grand and is richly decorated with four statues of the apostles and the main dome towers above the skyline. One cannot miss spotting it near St. Marks Square on the grand canal. The Basilica's interior is octagonal with small chapels on each side of the building. Although the interior decoration is quite plain compared to its exterior look, there are several impressive paintings by Titian and Tintoretto.
What to expect?
It is an operational church and is used by locals for services and masses. There are multiple stairs at the entrance where you would see many locals and tourists hanging out. Many buy their own food and a bottle of wine and spend time catching up with one another staring into the canal and sipping on wine.
Timings:
🕔 Open daily from 9am - 12pm and 3pm - 5:30pm

How to get there?
⛵ Although very close to the St Marks Square, you will have to take a ferry to get to the other side. Take a ferry from terminal San Marco Vallaresso "A" to terminal Salute
---
8) Palazzo Corner della Ca' Grande
 💳 Free | 🕑 30 minutes

What is it?
This palace was home to the Corner family - one of the wealthiest families in Old Venice. It was built to replace a family palace that had been destroyed by fire in the 1530s. Corner family was one of the most important families in Venice which produced 4 doges and the great queen of Cyprus: Catherine Corner. It is said that they had eight palaces on the Grand Canal at different times, including Palazzo Corner della Ca' Grande. It is located close to the St. Marks square and is a 10-minute walk from there.
What to expect?
Like all other palazzos in Italy, this one was built to impress. Its grandeur justifies the power of the people that once lived in it. It is a tall white almost square tiered building with columns and small arches all across its exterior. It currently serves as the home of the Provincial government and State Prefecture.
How to get there?
🚶‍♂️ 3 minutes walk from Ponte dell'Accademia; 10 minutes walk from St. Marks Basilica
---
9) The local market - Mercati di Rialto
 💳 Free | 🕑 40 minutes

What is it?
A Venetian market where the locals make way every day to stock on their daily needs. It is a short walk northwest of the Rialto Bridge. Fish, flowers, fruits and vegetables are some of the common items sold. There are other smaller markets in and around this area selling a lot of interesting items.
What to expect?
To understand the daily life and culture of any place, a local market is a must-visit. I highly recommend checking it out and getting a perspective of commerce in Italy.
Timings:
🕔 It is open daily except on Sundays from 7.30 am -1.30 pm. Fish markets are closed on Mondays.

How to get there?
🚶‍♂️ 4 minutes walk from Rialto bridge
---
10) Lido Islands
 💳 16 € | 🕑 3 hrs

What is it?
Lido is a beach island near Venice. It is away from the touristy parts, and so you would see lesser tourists and more locals here. It is home to about 20,000 residents and most people know each other or somebody from each other's families. It has high-end houses lined across the bay and most of them own a boat. It has a very laid back atmosphere. In contrast to all other places in Venice, people are not in a rush. Golf and tennis are popular. It is famous for hosting the Venice film festival each year between the last week of August to first week of September.
What to expect?
Most residents work on the other side of the lagoon. During peak hours you would see professionally dressed people crowded near the water-bus/ferry stations. I would recommend a visit here if you have seen all the main spots of Venice and still have time in hand. If you happen to be in Venice around the end of August, do check out the Venice film festival. A lot of famous Hollywood celebrities attend this festival too. Don't be surprised if you spot a familiar face. Tickets are available online 2 weeks before the film festival.
How to get there?
⛵ From St. Marks Square walk about 4 minutes to terminal San Marco-San Zaccaria"D" and take line 1 ferry to terminal Lido (S.M.E.) "D". A one-way ride costs 8 €.
---
How to get to Venice Island?
Option 1 : Train
Santa Lucia is the main and only railway station in Venice. A brief 5-minute walk from here will take you to the main attraction of Venice - The Grand Canal. A one-way ticket from Mestre to here would cost ~1.5€.
Option 2: Bus
Piazzale Roma is the main bus station in Venice. A brief 5-minute walk from here takes you to the grand canal. It is adjacent to the railway station. Bus tickets are slightly more expensive than train tickets.
Most of the sites in Venice are clustered together around its central complex - St. Marks Square: St. Marks Basilica, Campanile Bell Tower, Doge's palace, Bridge of sighs, Santa Maria della Salute and Palazzo Corner della Ca' Grande. Hence these are all at a walkable distance once you reach the square. Read on for more information.
---
Map
📌 Use the below interactive map for directions:
✔ Clicking the top right button opens the map in a new tab showing the different sections. Click on view map legend if browsing on phone✔ Save the map in your Google Maps for easy access later: Click the ⭐star button beside the name of the map. You can access the map later from Google Maps > Saved > Maps
---
Buon Viaggio! :)