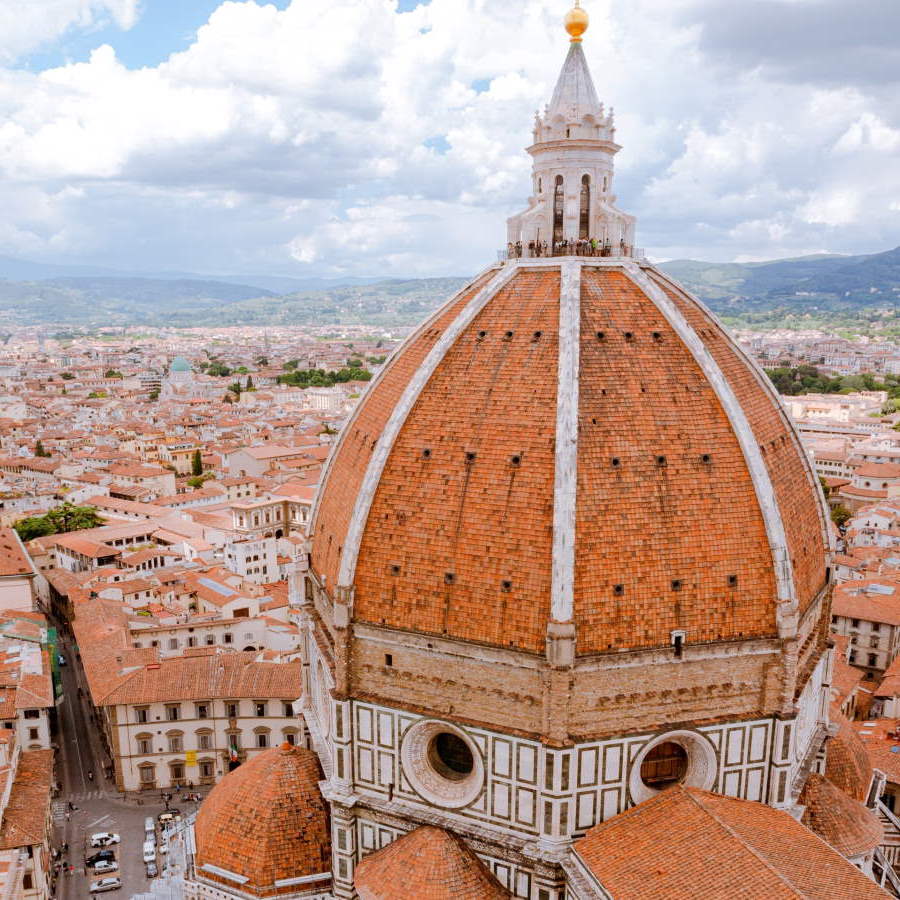 Top 10 Places To Visit In Florence - The Tuscan Capital of Italy
This Guide Contains
Interactive Map with Day Plans
Florence is a bustling paradise city boasting of its rich Renaissance history. The Renaissance period lasted between 1300-1600 and was a cultural, artistic, political and economic modernization of Europe following the Middle Ages. Florence was its birthplace and it slowly spread across Italy and ultimately to the whole of Europe.
Thus, Florence was home to multiple world renowned artists, sculptors, painters and poets which validates the existence two of the most popular, world class art galleries in the world – Uffizi Gallery and Accademia Gallery.
Many wealthy families in olden days lived here from the Pitti's, Corsini's to ofcourse the ruling Medici family. The Medici family ruled Florence and later Tuscany from the 15th to the 18th century. Most of the palaces of the city were built during their rule. A trip to Florence would include drowning in its rich architectural history and tasting some of the best wines and cheese in the world.
Euros is the official currency. English is not widely spoken but locals are extremely friendly and go out of their way to help tourists! Firenze Santa Maria Novella is the city's central train station and is a good starting point. A brief 10-minute walk from here will take you to the main attraction of Florence - The Renaissance walk.
⚠️ Many tourist sites are closed on Mondays - plan wisely. I have included the timings of each site in this article!
---
Best time to visit
☀️ May-Oct :
Warm pleasant sunny days and slightly chilly nights - best to explore the architectural, historical and culinary side of the city with all sites open and outdoor seating restaurants operating in full swing. This is Florence's peak tourist season.
❄️ Dec-Feb :
Winter lasts for three months beginning in December and ending in February and is the wettest and the coldest season with temperatures in the range of 3°C (37.4°F) and 12°C (53.6°F) with occasional light snowfall. Prices are low during this season.
☁️ Jan and Nov :
Good chilly weather and non-peak seasons. You would get the best deals during these times!
We were there in the third week of June - we had pre-booked all our tickets and so the crowd and surcharges did not affect us!
---
🥘 What should I eat?

🍛 Bistecca Fiorentina (flavorful veal steak - Florence's most authentic dish)
🍛 Ribollita(A heart warming vegetarian soup made of bread and vegetables)
🍛 Lampredotto (Traditional beef sandwich made from the fourth and final stomach of a cow)
🍛 Schiacciata Fiorentina (Florentine sweet flatbread)
🍛 Cantucci (Crunchy almond biscuits)

🥃 What should I drink?

🍷 Wine and more wine!
Traditional Tuscan wines are to die for. Some famous ones you must try are : Chianti, Brunello di Montalcino and Ornellaia
---
Itinerary in a flash
Day 1
Total Cost : € 38 + Food || Total Time : 9 - 10 hours
📌 Start the day by taking the Renaissance walk
📌 Have lunch at Piazza della Repubblica
📌 Head over to Uffizi [….]
---
1) Renaissance Walk
 💳 18 €  | 🕑 5 hrs

What is it?
The Renaissance walk is THE top most thing to do in Florence. Strolling on the same narrow streets as Michelangelo, Galileo and Florentines today, this sure is a "walk to remember". The main sights making this walk are – The Duomo, Baptistery, Giotto Bell Tower, Basilica of San Lorenzo, Dante's House, the Badia Fiorentina, the Bargello. These form the first half of the renaissance period i.e. the 14th century.
The Duomo
The Duomo is the iconic cathedral of Florence and is still counted in the top 20 largest cathedrals in the world. Its claim to fame is its dome which has since then become the postcard superstar of Florence. Famous Italians like Michelangelo and Galileo were buried here. The exterior facade is built in true Tuscan style with geometric patterns of marble blocks.
The Baptistery of St. John
Right across the Duomo is the octagonal baptistery. The reason it's located outside the cathedral is that in the middle ages one could not enter the church without being baptized. Its most famous element is its 3 sets of bronze doors installed in 3 different directions. Design for 2 of these sets namely the north and east doors were pitted for competition and won with a narrow margin. All 3 doors are extremely beautiful and richly gilded and depict famous scenes from the olden ages. The dome of the baptistery is covered with golden mosaic and is stunning. Gates of Paradise
Giotto Bell Tower
The bell tower - In olden days all cathedrals had a bell tower that housed the church bells. Giotto's bell tower a staggering height of 84.7 m provides spectacular panoramic views of the entire city. Visitors are allowed to get to top the tower by climbing 414 steps! At the top you are welcomed by brilliant statues, relief carvings and 7 ancient bells!
Opera del duomo Museum
For security purposes many publicly accessible Renaissance artifacts in cathedrals, piazza's and palaces have been replaced by exact copies of the originals. The originals are housed in the Opera del Duomo Museum under high security including the original bronze doors of the baptistery, statues of the Giotto's bell tower to name a few.
What to expect?
The Renaissance walk would easily take half a day - there is so much history to delve into here. This is the most important site of the Renaissance period and the excitement of relating events from one building to the other through the eras is unbelievable. I would highly recommend downloading Rick Steve's free audio guide for the Renaissance walk to truly appreciate and learn in detail each of these sights : Audio Guide . This guide is incredible and is loaded with information - tells you where to start, which direction to head next its almost like Rick is right there next to you walking alongside! Download it beforehand and save this mp3 file on your phone and once you are in the Florence - Tadaa!
Timings
🕔 Open all days 10 am - 5 pm ; varies by season - check beforehand

Tickets
🎫 Guided tour with skip the line access to Florence Cathedral, St. John's Baptistery, Giotto's Bell Tower, and Opera museum with sample chianti wine, cheese, and balsamic vinegar for 50 € : Tickets
🎫 Alternately you could buy a combined entry ticket at the spot to Brunelleschi's Dome, the Giotto's Bell Tower, the Baptistery of San Giovanni, and the Opera Museum for 18 € and use the free audio guide mentioned above.

How to get there?
🚍 Bus: C1/C2 to Duomo Firenze; Route 6 or 11 to station Vecchietti

⚠️ The duomo is a highly religious and respectful place and hence being appropriately dressed is mandatory. No bare arms or legs for both men and women.
---
2) Uffizi Art Gallery
 💳 20 €  | 🕑 2.5 hrs

What is it?
A world renowned huge art gallery spread across 3 floors. It is home to some of the most beautiful & unparalleled art collections in the world from the Renaissance period created by big names like Leonardo da Vinci, Michelangelo and Caravaggio to name a few. Apart from the classical Italian and Florentine art, it also hosts wonderful art pieces from a number of foreign artists. As you enter you walk through a long corridor displaying intricately carved marble sculptures of famous Roman Gods, rulers, artists and historical scenes. The corridor makes way to numerous rooms on either side showcasing mind blowing paintings (ranging from a small 5*4 sized paintings to huge room sized paintings). The most important works that you just cannot miss here are : The Birth of Venus painting, Medusa on a shield, Coronation of the Virgin, sculpture of Laocoön and his Sons, Madonna with the Long Neck and Portrait of Pope Leo X with Two Cardinals.
What to expect?
At the end of the second floor is a beautiful cafe for a quick cookie and cappuccino grab. The cafe gives an excellent view of the Palazzo Vecchio which is Florence's townhall, making for a good photo op. I would recommend visiting these galleries only if you are interested in art. For a person without a keen interest towards art, it can get pretty boring and may seem repetitive.
Timings
🕔 Tuesday to Sunday : 8:15 am – 6:50 pm; Closed on Mondays

Tickets
🎫 Skip the line tickets for 20 € : Tickets
🎫 Skip the Line: Florence Uffizi Gallery Group Tour for 58 € : Tickets

How to get there?
🚍 Bus: C1 to Galleria Degli Uffizi
---
3) Pitti Palace
 💳 22 €  | 🕑 2 hrs

What is it?
The powerful Medici family ruled Florence through the Renaissance period. Theirs was a family of wool making and bankers and were extremely wealthy. Four popes came from this illustrious family. The last Medici ruler died without a male heir in 1737, ending the family dynasty after almost three centuries.
Pitti palace was originally the residence of Luca Pitti, an ambitious Florentine banker and a rival of the Medici family. He had built it with an ambition that his residence must be more lavish and bigger than the Medici residence (current Palazzo Medici Riccardi). An unfortunate economic downfall came upon the Pitti family and eventually the palace was acquired by the Medici's and became the chief residence of the ruling families.
What to expect?
Pitti Palace is Florence's largest museum complex with 140 rooms. The site now has the main palace with the royal apartments and a couple of galleries (Palatine Gallery, Gallery of Modern Art, Treasury of the Grand Dukes, Museum of Costume and Fashion). At the back of the palace is the famous Boboli Garden. Visit Pitti Palace in Florence for a tour of its Palatine Gallery, a collection of private rooms and chambers that were once used by the grand dukes of the Medici family.
Timings
🕔 Tuesday to Sunday : 8:15 am – 6:50 pm; Closed on Mondays

Tickets
🎫 Skip the line entrance ticket to Pitti Palace and Palatina Gallery for 22 € : Tickets
🎫 Pitti Palace and Pitti Palace guided tour for 40 € : Tickets

How to get there?
🚍 Bus : 11 bus to Piazza San Felice; C3 or D buses to the Pitti stop
---
4) Ponte Vecchio
 💳 Free  | 🕑 30 minutes

What is it?
The symbol of Florence, Ponte Vecchio is a beige-yellow stone bridge, and is the oldest bridge to span the Arno river. Ponte Vecchio literally translates to "old bridge" and is open to pedestrians only. It consists of 3 arches and is known for the shops lining across its length, which used to be a common sight in olden day Italy. The shops range from jewelry, textiles, watches to art dealers and ofcourse gelato! It was originally occupied by medieval butchers, most of whom lived above their shops. It was the only bridge in Florence not to be blown up by the Germans during World War II.
What to expect?
It has 2 neighboring bridges - Ponte Santa Trinita and the Ponte alle Grazie and a lot of tourists actually prefer taking a view of Ponte Vecchio from these bridges! Expect to see a lot of crowd in all 3 bridges. An elevated enclosed passageway called The Vasari Corridor runs along Ponte Vecchio and was built to serve as a direct private connection between Palazzo Vecchio (city townhall) to Pitti palace (Medici rulers family palace). This is the reason the butchers and the meat market of Ponte Vecchio was moved to avoid its smell reaching into the passage, its place being taken by the goldsmith shops that still occupy the bridge.
Timings
🕔 Monday to Saturday 9:30am - 12pm and 3:30pm - 5:30pm; Closed on Sundays and public holidays

How to get there?
🚶‍♂️ 3 minutes walk from Palazzo Vecchio; 4 minutes walk from Pitti palace
---
5) Accademia Gallery
 💳 20 €  | 🕑 2.5 hrs

What is it?
The second most visited gallery in Florence right after Uffizi gallery. Remarkable art pieces call this gallery home but the one piece that puts the Accademia gallery on the map is the original statue of Michelangelo's famous David. One of the most recognized works of Renaissance sculpture, it is a symbol of strength and youthful beauty. Other spectacular artwork to go gaga over include the Florence Gothic rooms, a panel of an elegant wedding parade taking place in downtown Florence, the hall of the prisoners to name a few. Learn the techniques used in creating marble sculptures and wood panel paintings, see the musical instruments of yesteryear and admire the fashion in 14th century Florence.
When you walk by Palazzo Vecchio you would certainly see a crowd form around a statue which is also called Michel Angelo's David. The original status was indeed first placed outside the Palazzo Vecchio, the seat of civic government in Florence, in the Piazza della Signoria, where it was unveiled on 8 September 1504. The statue was moved to the Galleria dell'Accademia, Florence, in 1873, and later replaced at the original location by a replica.
What to expect?
A rich collection of sculptures, paintings and artifacts from the middle ages spread across two floors and numerous halls. You would truly appreciate the talent, passion and patience of these treasured artists and how much each article meant to them.
Timings
🕔 Tue - Sun 8:15 am - 6:50 pm, Closed on Mondays

Tickets
🎫 Skip the line entrance ticket to Accademia Gallery for 20 € : Tickets

How to get there?
🚍 C1 to Piazza Di San Marco
🚶‍♂️ ~15 minutes walk from Uffizi gallery and Palazzo Vecchio
---
6) Palazzo Vecchio
 💳21 € | 🕑 2.5 hrs

What is it?
The political heart of medieval and Renaissance Florence, Palazzo Vecchio was initially built in the 13th century to be the seat of power where the rulers and his men could work and organize their gatherings. Its structure and design changed multiple times over the years with its changing use and with the changing of design had muliple names as well. Over time it has been called Palazzo della Signoria, Palazzo del Popolo, Palazzo dei Priori, and Palazzo Ducale. But the most change was brought in when the Medici family moved from their former palace (Palazzo Medici) to make Palazzo Vecchio their residence in mid 16th century. Infact Palazzo Vecchio literally transaltes to "Old Palace" and got this name when the Medici family moved their residence yet again from here to Pitti palace in late 16th century.
As you enter you are welcomed by the gigantic town hall : The Salone dei Cinquecento (Hall of the Five Hundred). This is the largest and most important room in terms of artistic and historical value inside the palace. It was designed to hold, at once all the 500 councilmen working under the Medici family ruler Girolamo Savonarola. Paneled ceilings, large wall frescoes, golden decorations and imposing sculptures will leave you admiring in marvel. On either side there are large murals with battle scenes depicting victories of the Republic of Florence. These murals were painted by Leonardo da Vinci and Michelangelo Buonarroti.
The second floor takes us through the imperial apartments where the Medici family lived, giving the visitors a perspective of the daily life of the royal and their luxurious lifestyle. The mysterious symbols and paintings that inspired Dan Brown's 'Inferno' are here on display.
What to expect?
The palace gives the visitors an opportunity to completely immerse themselves in the history of Florence and a rich understanding of the Medici family. Definitely recommend taking a guided tour here. There are too many details and stories that you do not want to miss out on! The striking tower of Palazzo Vecchio called the Arnolfo tower is named after its builder Arnolfo di Cambio. At a height of 95 m, it provides the most breath-taking views of Florence, specially the duomo. It is a climb of 233 steps and is not very demanding. Although most of the Palazzo Vecchio is now a museum, it remains as the symbol and center of local government; since 1872 it has housed the office of the mayor of Florence, and it is the seat of the City Council.
Timings
🕔 Open all days: 9 am - 7 pm during summers ((April to September). 9 am - 11 pm rest of the months. On Thursdays the palace is open only till 2 pm.

Tickets
🎫 Book a guided tour morning tour with all inclusive tickets to the complete palace + tower + archaeological site for 60 € : Tickets
🎫 Book skip the line tickets to the complete palace + tower + archaeological site for 21 € : Tickets

How to get there?
🚶‍♂️ 2 minutes walk from Uffizi gallery
🚍 Bus: C1 to Galleria Degli Uffizi
---
7) Piazza della Signoria
 💳 Free  | 🕑 1 hr

What is it?
Piazza della Signoria is the main square or piazza of Florence and is located in front of Palazzo Vecchio. It is infact named after the old palace. It is the main point of the origin and history of the Florentine Republic and still maintains its reputation as the political focus of the city. Michelangelo's David was originally unveiled and placed in this square for almost 300 centuries before moving it to Accademia Gallery and replacing it with a copy in the square.
What to expect?
Being the main square of the city it is generally crowded with tourists and locals alike. It serves as the starting point for many guided tours. It has many pretty outdoor seating eateries and would be a good spot to grab lunch or dinner!
Timings
🕔 The eateries and shops are open from 8 am till late night

How to get there?
🚶‍♂️ 3 minutes walk from Palazzo Vecchio; 4 minutes walk from Pitti palace
---
8) Wine N Cheese Tour in Tuscany
 💳  40 €  | 🕑 1.5 - 2 hrs

What is it?
One of the things you must absolutely not miss while in the Tuscan heaven are the vineyards. The region is blessed with tons of local wineries and most of them run their own tours. A tour would typically include a visit to the vineyard, fruit plucking, a walk through the wine making process and finally "make your own wine" sessions with sample drinks. At the end of the tour you leave with a ton of newly acquired wine knowledge, yummy munchies, vivid conversations, pretty Instagram-able pictures and a happy high! Whats not to love 🙂
What to expect?
Recommend taking a group tour rather than a private tour. You get to learn a lot about wine, its drinking etiquette accompanied with personal interesting stories! This will be a lovely experience to enjoy. Additionally a lot of the vineyards provide wonderful accommodations that you could choose to stay in! Sipping on Chianti wine when the sun is setting and blessing the yards with its golden hour rays is an experience that cannot be explained in words!
Timings
🕔 Tour dependant

Tickets
🎫 Florence Cheese, Wine and Olive oil Tasting for 40 € : Tickets
🎫 Tuscany Cheese and Wine-Tasting in Florence for 40 € (Olive oil tasting + snacks included) : Tickets
---
9) Piazza della Repubblica (Ride in a gold merry go round)
 💳 Free  | 🕑 30 mins

What is it?
Right after the Renaissance walk, on your way out you would stumble upon a bustling vibrant plaza called the Piazza della Repubblica. What was once the old Jewish ghetto was rebuilt as a grand public space when Italy was united as one country in 1860 and when Florence became the capital for a while. The plazza's Triumphal Arch called the Arcone was built in 1895 to celebrate the transformation. Its inscription reads: "The ancient center of the city restored from age-old squalor to new life." Today, this large Florentine square is famous for its touristy literary cafes. Of them, the most famous one is Giubbe Rosse cafe and is well known to be frequented by artists and writers. The piazza is filled with street performers - amazingly talented musicians, vocalists, painters and magicians during the evenings!
What to expect?
Something that would definitely draw your attention in this plaza is the antique golden merry go round. It was installed in the 20th century and has been running ever since. This is a fun ride for the little ones and a good break from all the sight seeing for the tired little feet. There is enough space between the horses for the elders to stand. The golden carousel makes for a really cool photo op. While you are there do say hello to the friendly owner Carlo Picci. He represents the fourth generation of his family to run the carousel.
Timings
The piazza is open 24*7. The cafe and other shops are open everyday from 9 am to midnight during summers and till 7 pm during winters.

How to get there?
🚶‍♂️ 3 minutes walk from the Duomo
---
10) Via de' Tornabuoni
 💳 Free  | 🕑 2 hrs - 3 hrs

What is it?
Popular as the high end shopping street of Florence, Via de' Tornabuoni is definitely worth a stroll. The street houses high fashion boutiques, belonging to designer brands such as Gucci, Salvatore Ferragamo, Enrico Coveri, Roberto Cavalli, Emilio Pucci and others; also boutiques of jewelry are here such as Damiani, Bulgari and Buccellati. Gives a perspective of the elite part of the city.
What to expect?
Luxury shopping or window shopping based on your budget! The place is stunning at night with glowing lights throughout the street. A couple of historic palaces are in its vicinity - Palazzo Strozzi , Palazzo Spini-Ferroni and Palazzo Tornabuoni.
Timings
Open all days 10 am - 6 pm

How to get there?
🚶‍♂️ 6 minutes walk from Palazzo Vecchio
---
How to get around the city?
🚍 Bus is the most abundantly available public transport with a bus station in a distance of 100 m - 500 m at every major tourist attraction. Cheap and easy to use. The day buses run throughout Florence from 6 am to 10 pm. The main line is run by ATAF. Tickets can be bought in the major bus/train stations, at tobacco shops/bars, and newsagents. Tickets must be immediately validated as soon as you get on board using machines installed inside the bus/tram. You just run the card through the hosted machine - this punches the date and time of travel onto the ticket. If caught without an invalidated ticket or worse without a ticket then you are liable for a hefty penalty. I have mentioned the bus numbers and stations for every site in the article! Download this article offline and you could refer to it when you move about in Florence.
These are the choices among tickets. The same ticket works in both bus and trams!
🎫 90 minutes ticket = 1.50 €
🚶‍♂️ A lot of the sites are clustered together in different parts of the city. Once you reach any site in one cluster via a bus/tram you could just walk to the rest of them within the same cluster.
Florence does not have a metro train system. It does have a tram system run by the operator GEST (owned by ATAF) with 2 lines and 37 stations. However in our experience the tram stations are not very close to the major sites you would be visiting as a tourist and you may have to take a 10 - 15 mins walk to reach the site from the station.
---
Map
📌 Use the below interactive map for directions:
✔ Clicking the top right button opens the map in a new tab showing the different sections. Click on view map legend if browsing on phone✔ Save the map in your Google Maps for easy access later: Click the ⭐star button beside the name of the map. You can access the map later from Google Maps > Saved > Maps
Buon Viaggio! :)