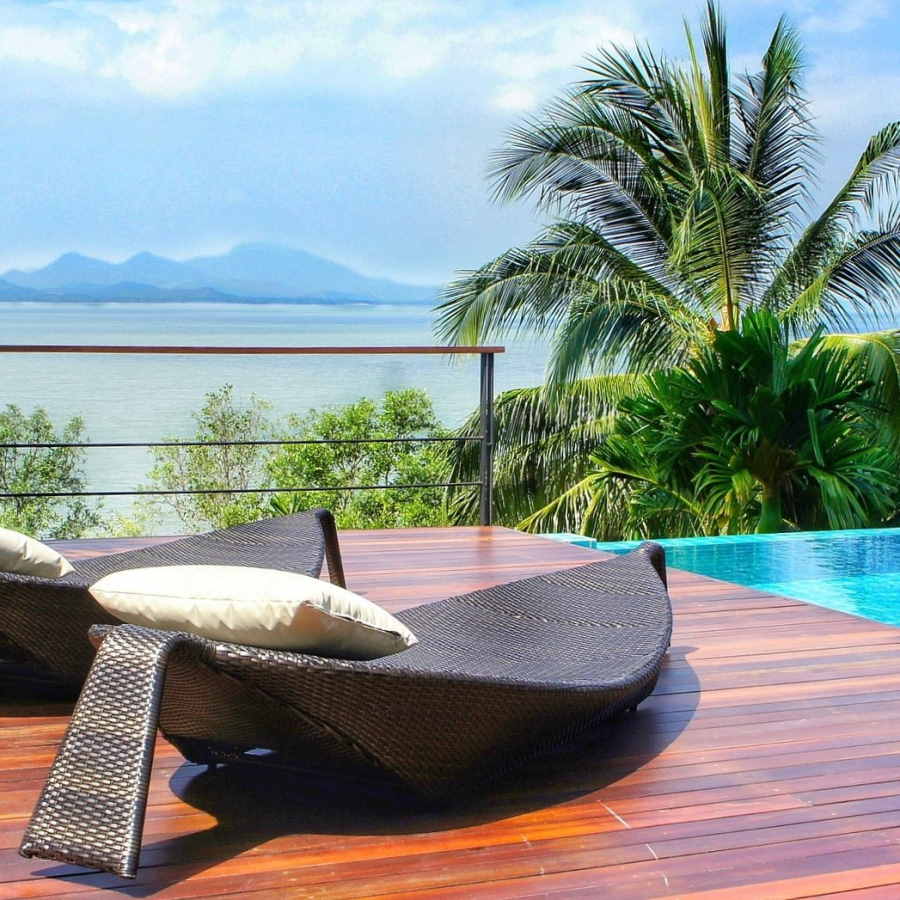 Flexible 3-7 days Andaman and Nicobar Islands Itinerary
The escape islands of India - Andaman and Nicobar is a peaceful getaway paradise. You could choose to spend as long as 10 days in this tropical beauty or as less as 3 days. Here is a planned itinerary to help you schedule your time in the islands. To learn more about each of the sites and what to do there, read my Andaman & Nicobar Guide . The guide includes in-depth details on each island, best water sport activities, food, transport and other useful tips.
If you have 7 days in hand…
Spend the first 3 days in Port Blair
Day 1 - Land in Port Blair
🕕 1:00 pm - Check-in to your hotel
Andaman has its international airport located in Port Blair. Your check-in would generally be in the afternoon. Have lunch, relax for a while and head right out.
🕕 3:00 pm - 5:00 pm - Cellular Jail
A gruesome colonial prison with 696 isolated cells, designed by the Britishers, to punish Indian Independence activists. Explore the complete jail.
🕕6:00 pm - 7:00 pm- Cellular Jail
Light and sound show narrating and showcasing the trials and tribulations of the inmates.
🕕 8:30 pm - 10:00 pm - Dinner
Fortune Resort Restaurant and The New Lighthouse Restaurant are good options.
Day 2 - Port Blair main city
🕕 10:00 pm - 1:00 pm - Corbyn Cove's Beach
Relax, stroll around, take in the breath-taking views in this crescent shaped coconut palm-fringed beach. Enjoy a drink and lunch at one of quaint beachside restaurants - Alto Espirito is a good option.
🕕 2:00 pm - 3:30 pm - Samudrika Marine Museum
A museum designed to create awareness about oceanic environment and marine life.
🕕 5:00 pm - 8:30 pm - Chidiya Tapu Beach
Offers the best sunset view in Andaman. Has a mini-zoo as well!
🕕 9:30 pm - Dinner
If you are in the mood to sing your heart out then Feel Good Restaurant & Karaoke Night would be a good option to try. Don't keep your expectations too high though!
Day 3 - Juolly and Red Skin Islands (Water sports day baby!)
Today we explore some spectacular islands towards the south of Port Blair. These islands are part of the Mahatma Gandhi Marine National Reserve and hence the underwater life here is very well conserved and is sure to make your jaw drop.
🕕 10:00 pm - 1:00 pm - Wandoor Beach
Starting point of entry to the Juolly and Red Skin Islands.
🕕 1:30 pm - 4:00 pm - Juolly Beach Island
First, have some yummy lunch from the shacks. Take a leisure walk to the forests and sunbathe on the sands. Underwater view here is terrific. GO crazy snorkeling, scuba diving all you want!
🕕 4:30 pm - 8:00 pm - Red skin Island
Juolly's twin! Drown in its sheer beauty. Yet another brilliant island with a terrific underwater view. Snorkel, scuba dive - do it all!
Day 4 - Day Trip to Baratang Island
🕕 10:00 pm - 1:00 pm - Baratang
Drive from Port Blair to Baratang island. Have lunch.
🕕 2:30 pm - 4:00 pm - Limestone Caves
A 20 minute boat ride takes you through the most dense and dreamy mangrove creeks to the naturally formed limestone caves, lined with stalactites and stalagmites that has held the secrets of this great island for years!
🕕 4:30 pm - 6:00 pm - Mud Volcano
An eruption effect created when natural gases emitted by decaying organic matter underground pushes mud upwards
🕕 6:30 pm - 9:00 pm - Drive back to Port Blair and enjoy dinner/nightlife at Pink Fly lounge.
If you are not interested to travel to Baratang Island, another good option for a day trip from Port Blair would be North Bay Island. It offers some exclusive water rides like a Coral Safari Semi Submarine Ride and Glass Boats - these would be good water activities for a family where some members are scared to get into water, but still want to enjoy under water life!
Day 5 - Havelock Islands (Elephant Beach, Kalapathar Beach & Nightlife)
🕕 6:00 am - 9:00 am - Check-in to your hotel
Take a ferry from Phoenix Bay jetty. There are 3 slots to pick from - 6:00 am, 11:30 am and 2:00 pm. The ride would take about 3 hours. Freshen up, have breakfast and head out!
🕕 10:00 am - 4:30 am - Elephant Beach
Excellent for water sports. Try scuba diving, jet ski, banana boat ride and speed boats. Also offers different water sports in the form of sea walking and glass bottom boat ride! Have lunch at Something Different - A Beachside Cafe.
🕕 5:00 pm - 6:30 pm - Kalapathar Beach
White sand beach famous for its natural rock formation of varied shape and size - known for its beautiful sunset in all of Havelock.
🕕 7:30 pm - 10:30 pm - Havelock Islands Nightlife
Nemo Cafe - The Beach Bar is an excellent place to have some drinks, grab dinner and create a party scene.
Day 6 - Havelock Islands (Radhanagar Beach, Vijayanagar Beach)
Today we spend the day relaxing at different beaches and taking in their beauty - No water sport activities today unless you want to!
🕕 10:00 pm - 1:30 pm - Radhanagar Beach
Relax, sun-tan and take long walks. Have lunch at Turtle House.
🕕 3:00 pm - 8:30 pm - Vijayanagar Beach
Shallow waters and one can practically walk into the sea. Water is so clear that you can see the surface below. This place offers spectacular photo ops - a boat hooked to a bench, a tire hung to a tree! This beach has some of the best restaurants of Havelock Islands located close by - Fat Martin, Venom Bar are some good options to explore.
Day 7 - Neil Islands
Make sure to book your ferry ticket from Havelock to Neil islands at least 2 days in advance. Private ferry tickets can be booked online (make sure you book these prior to booking your hotel). Govt. ferry tickets are cheaper and have to be booked at least 2 days in advance from the ticket station. Ferry rides are limited and the demand is huge! High chances that you may not find a ticket if you try to book on the same day that you plan to travel.
🕕 10:00 am - 11:00 am - Check-in to your hotel
🕕 11:30 am - 1:30 pm - Laxmanpur Beach No. 1 and 2
Its natural bridge formation called the 'Howrah Bridge' is a popular tourist attraction. Enjoy the plethora of water sport options available here. Have lunch at either Ripon Seafood or Dugong Restaurant.
🕕 2:00 pm - 4:00 pm - Sitapur Beach
Remote island coast with white sand & clear water, 2 bays, caves, palm trees & fresh coconuts. Quiet and secluded rocky beach - best known for its mesmerizing sunrise and sunset.
🕕 4:30 pm - 6:30 pm - Bharatpur Beach
Swim in its water while watching the sun go down.
🕕 7:30 pm - 9:30 pm - Have dinner and head back.
---
If you have 5 days in Andaman & Nicobar Islands…
📌 Day 1 : Port Blair
Explore Cellular Jail, Corbyn Cave Beach and Chidiya Tapu
📌 Day 2 : Port Blair
Explore Wandoor Beach, Juolly Buoy islands and Red Skin Islands to see some of the best under water life
📌 Day 3 : Day Trip to Baratung Island OR North Bay Island
In Baratung islands you can explore the Limestone caves, mud volcano and have an amazing drive through the islands!
In North Bay Island you could try some unique water sport activities especially if you are a non-swimmer and are scared of water : Sea Walk and Coral Safari Semi Submarine Ride.
📌 Day 4 : Explore Havelock Islands
📌 Day 5 : Explore Neil Islands
---
If you have just 3 days in Andaman & Nicobar Islands…

📌 Day 1 : Port Blair
Explore Cellular Jail, Corbyn Cave Beach and Chidiya Tapu

📌 Day 2 : Havelock Islands

📌 Day 3 : Neil Islands
---
Map
📌 Use the below interactive map for directions:
✔ Clicking the top right button opens the map in a new tab showing the different sections. Click on view map legend if browsing on phone✔ Save the map in your Google Maps for easy access later: Click the ⭐star button beside the name of the map. You can access the map later from Google Maps > Saved > Maps
Shubho Jatra! :)