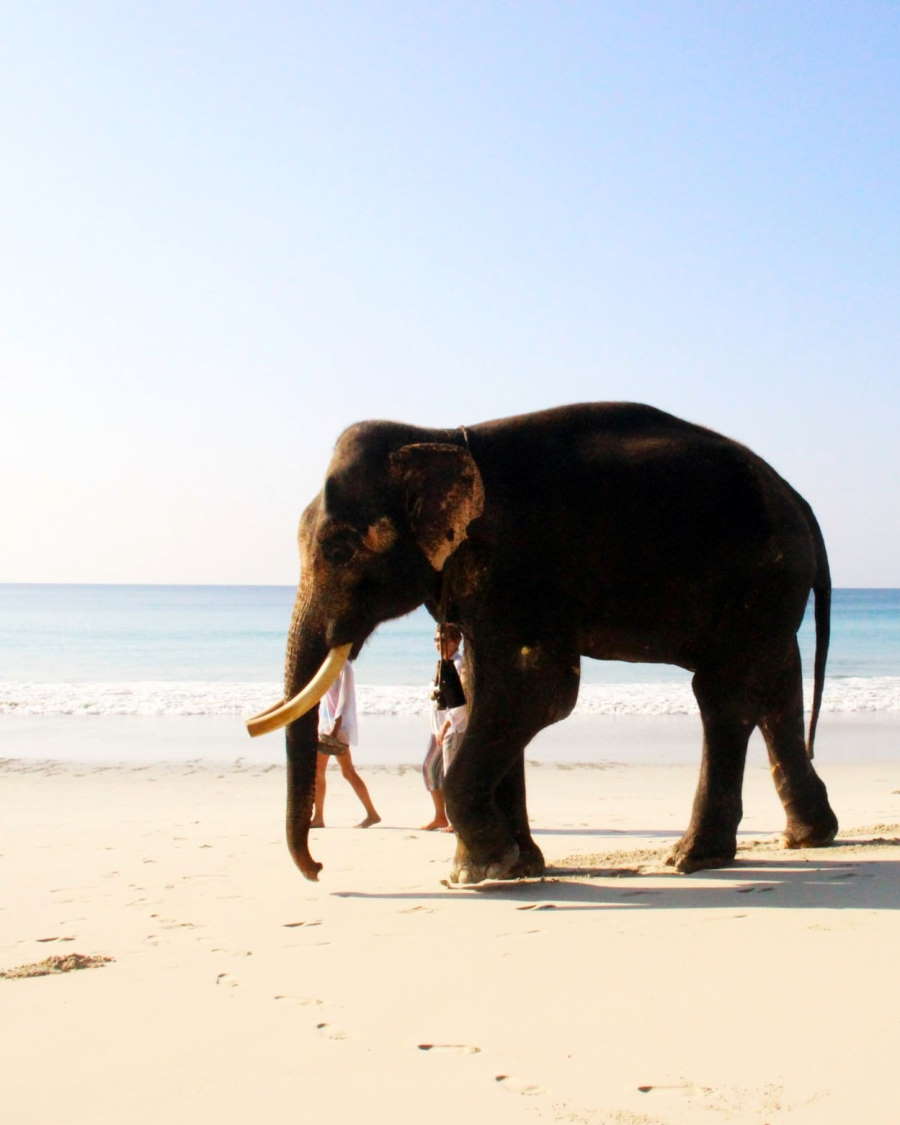 The Ultimate Andaman & Nicobar Islands Guide
This Guide Contains
Interactive Map with Day Plans
The beautiful islands of Andaman and Nicobar is considered a union territory of India. They are a group of 527 big and small islands in the Bay of Bengal, of which about 38 are inhabited by mainland Indians and 6 groups of local tribes. Each island has something unique to offer yet they are all connected in their signature appearance : long never-ending coconut trees, white sand and pristine blue waters!
It is considered to be one of the best sites in India to try out a wide array of water sport activities at reasonable rates! Coral reefs supporting marine life such as sharks and rays make for popular diving and snorkeling activities. The underwater view in some of these islands are unbelievable. Overall, Andaman makes for the perfect week-long vacation you've been dying to take for a long time now : relaxing resorts, beautiful beaches, adrenaline rushing water activities, mouth-watering seafood and friendly smiling locals! What's not to love here?
In this article, I take you through all the available places that are to explore in Andaman and Nicobar islands ranging from the most popular ones to the lesser-known ones and everything in between. Based on what interests you most, you could choose to visit some of them and skip the rest!
---
Language, Culture and Demography
Bengali is the most widely spoken language in the islands followed by Hindi and Tamil. English can be understood and spoken by the vast majority.
The main occupation of people in the islands range between agriculture, forestry, fishing and tourism. Majority of the population follow Hinduism (~70%), followed by Christianity (~22%) and Islam (~8%).
Andaman and Nicobar is a cluster of islands with the Andaman set of islands in the north and Nicobar set of islands in the south. They are divided into a total of 3 districts: North & Middle Andaman, South Andaman and Nicobar. Each district is further divided into 3 Tehsils each.
The Andaman Islands are home to four 'Negrito' tribes – the Great Andamanese, Onge, Jarawa and Sentinelese. The Nicobar Islands are home to two 'Mongoloid' tribes – the Shompen and Nicobarese. The 'Negrito' tribes are believed to have arrived in the islands from Africa about 60,000 years ago. They follow a hunter-gatherer lifestyle and prefer having no contact with the outside world and the Govt. of India respects their choice. Hence tourists are not allowed to visit the islands where the tribal communities live. It is guarded by the Indian Navy.
---
Best time to visit
The islands enjoy a tropical monsoon climate.
☀️ October - May : Pleasant and sunny weather. Best time to indulge in water sports, island exploration and enjoy local food in sit out shacks. Peak season.
☁️ June - September : Heavy rainfall, high tides and strong wind - no swimming and water activities. Best if your plan is to unwind, relax and cosy up in a resort with good food and surreal atmosphere. Non-peak season and hence you can get the best deals during this period.
---
🥘 What should I eat?

🍛 Coconut based seafood
🍛 Grilled lobsters
🍛 Bengali cuisine is widely available and appreciated (Macher Jhol, Chingdi Malai Curry, Maach Bhaja)

🥃 What should I drink?

🍸 Coconut water
🥃 Alcohol rates are cheaper by almost ~30% - 50% as compared to other Indian states. You'll find government owned liquor shops throughout the islands that sell liquor. Andaman does not have a local drink - bottled alcoholic drinks available throughout the country are available and enjoyed here.
---
Water sport options with standard cost
Here is a list of the wide range of water activities you could try in your Andaman and Nicobar islands trip! Snorkeling and Scuba diving are the most popular and are available in almost all beaches. The rest are available in selected beaches.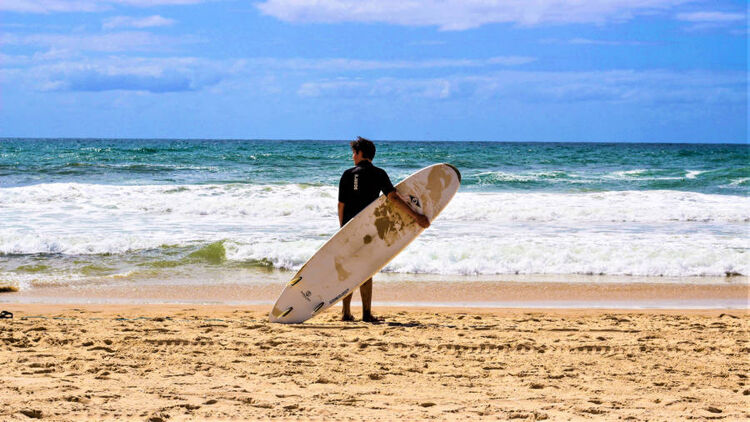 Water activities are considered to be the best in Havelock Islands and Neil Islands. You would be provided with a guide for each activity and he/she would be equipped to take your photos underwater. Bargain well and try to club these packages with a nominal charge for an underwater photograph of yourself!
Approximate rates and quotes below:
Snorkeling: ₹ 500 for 30 mins
Jet Ski Ride: ₹ 500 for 10 mins
Scuba Diving: ₹ 3,000 - ₹5,000 for 40 mins. Most islands charge closer to ₹ 3,000 + 18% GST for a 40 min dive
Glass bottom boat ride: ₹ 500 - ₹ 600 per seat
Sea walk: ₹ 1,200 - ₹ 1,500 for 30 mins. Available in North Bay Island and Elephant beach in Havelock island
Coral Safari Semi Submarine Ride: ₹ 1,850 for adults and ₹ 1,350 for children for a 60 mins ride. Available in North Bay Island
---
📌Nicobar Islands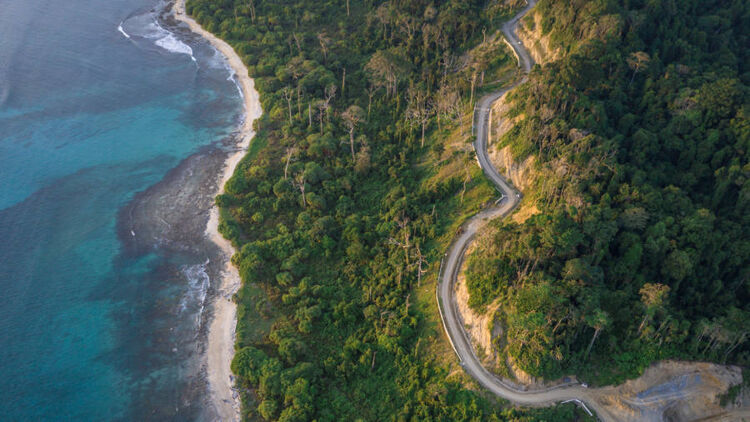 Nicobar islands is not an ideal tourist destination as most parts are off limits to tourists. Nevertheless, here is some information about it. Nicobar islands is divided into 3 Tehsils -
❌ Car Nicobar in the North
Tourists are not allowed to visit this Tehsil. It is mainly occupied by the Shompen and Nicobarese tribes. The Nicobari huts are unique to the island and are constructed on elevated stilts with a wooden ladder as an entrance from the ground.
❌ Nancowry in the Center
Nothing to see here
✔️ Great Nicobar in the South
Limited parts of this Tehsil is open to tourists, although reaching here is quite a challenge. You could reach here only via a 3-hour helicopter ride or a 30-hour ship ride from Port Blair! Main point of interests here are-
Indira point - Popular for being the southern most tip of India
Great Nicobar Biosphere Reserve

Campbell Bay National Park
Galathea National Park
Tourists can stay only in Campbell Bay and travel to other parts of the island from here.
---
📌Andaman Islands
Andaman Islands are definitely the more touristy part of Andaman and Nicobar Islands. It played a significant role in the path to India's Independence. These islands were used as banishment centres for freedom fighters who rebelled against the British rule. Today, the Andaman is divided into 2 districts -
South Andaman with 3 tehsils

Ferrargunj, Little Andaman, Port Blair

North & Middle Andaman with 3 tehsils

Diglipur, Mayabunder and Rangat
Port Blair - The Central Hub
The capital city of Port Blair is definitely the center and generally the starting point for all tourists. Read on to find out more about the 7 main points of interest in Port Blair.
⚠️ A lot of places are closed on Mondays, so plan accordingly!
1) Cellular Jail
A gruesome colonial prison with 696 isolated cells, designed by the Britishers, to punish Indian Independence activists. Their idea was to send our freedom fighters revolting against British rule, far away from the mainland and subject them to long periods of harsh treatment - the convicts were chained and tortured and were forced to construct prisons, buildings and harbor facilities. To add to this, each cell was designed in a way that communication between prisoners was impossible. In essence each of them was in solitary confinement. Almost 80,000 political prisoners have been captured in this jail during the hardships our freedom fighters had to go through for the freedom we enjoy today. The Cellular Jail was forced to empty in 1939.
Cellular Jail is also called the 'Kala Pani' Jail, since the jail is surrounded by water from all sides, making it impossible for the prisoners to escape. The locks of the prison cells were designed in such a way that the inmate would never be able to reach the latch of the lock. The prison guards would lock up the inmates and throw the key of the lock inside the jail. The inmate would try to put his hand out and try to unlock the door but would never be able to do so as his hand would never reach the lock.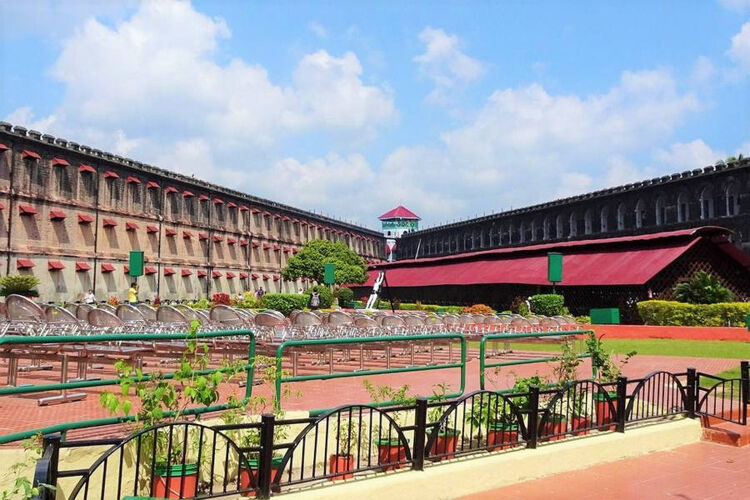 In the evening, the jail hosts a light and sound show narrating and showcasing the trials and tribulations of the inmates. Various artists enact the life of prisoners during the darkest and most terrifying period in the history of India.
🕔 Timings
Cellular Jail :
⌛ Tue - Sun : 9:00am - 12:30pm & 1:30pm - 5:00pm
⌛ Closed on Mondays and public holidays
Light and Sound Show :
⌛ 6:00pm : Hindi on Tue, Thu, Sat and Sun
⌛ 7:15pm : English from Tue - Sun
2) Samudrika Marine Museum

A museum designed to create awareness about oceanic environment and marine life. It is run by the Indian Navy. It provides a pool of information about the islands, the local tribal communities, different corals found in the island, hawksbill turtles, Australian trumpets, Jarawa tribe chest guard, shamanic sculptures to name a few.
Recommend visiting if you have a keen interest in learning about marine life and are curious to understand the indigenous tribal communities.
🕔 Timings :
⌛ Tue - Sun 9:00am - 1:00pm & 1:30pm - 4:30pm
⌛ Closed on Mondays
🎫 Tickets : 🤑 Entry charge ₹ 20
3) Corbyn's Cove Beach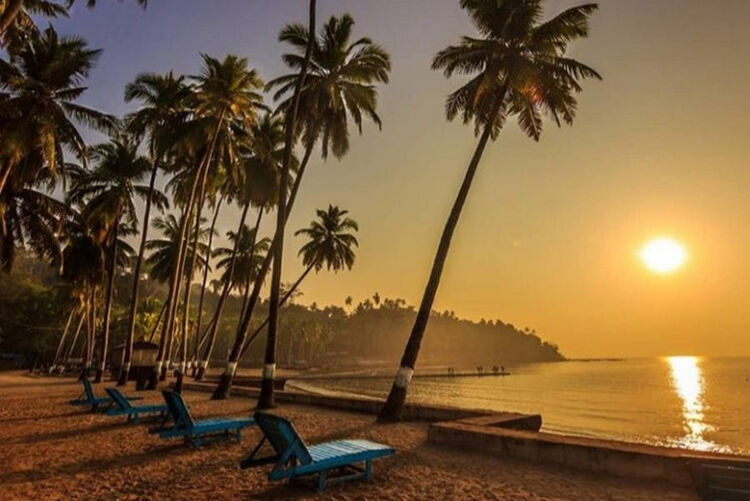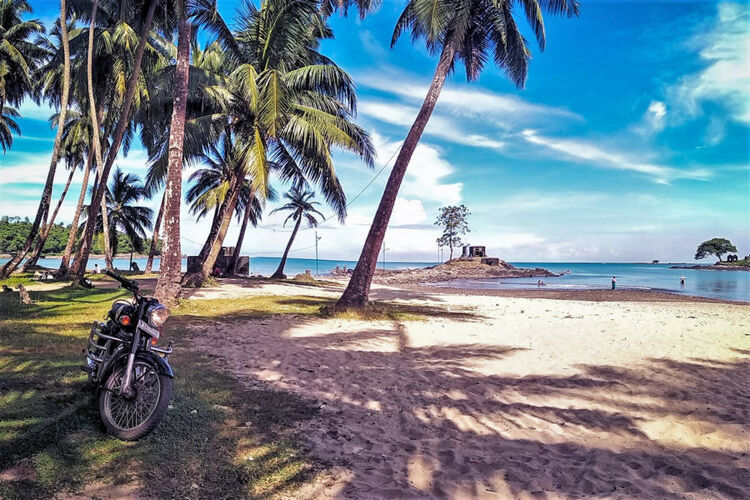 This crescent shaped coconut palm-fringed beach is one of the most visited beaches in Port Blair and the closest beach to the city. The drive to this beach is definitely one of the best rides/drives you would experience in your life - unparalleled natural beauty and absolutely blissful! The beach is best for relaxation, its peace and tranquility will win you over. There are a ton of water sport activities available here - Jet Ski, Speed Boating, Banana Boating, boat ride up to the Snake Island and Para Sailing. However, I would recommend to opt for these activities in either Havelock or Neil islands and use this beach solely for relaxation, leisure stroll, relish mouth watering food at the beach shacks and shop for local garments and accessories in the small shops by the beach side! Stage performances are hosted by various artists during weekend nights - Keep an eye out for those!
Named after Rev. Henry Fisher Corbyn, a representative of the bishop during the British rule who had spent some time in the Andaman and Nicobar islands and had set up the 'Andamanese Home' which was also a repressive institution (before the official Cellular Jail was set up) albeit disguised as a charitable one.
4) Chidiya Tapu Beach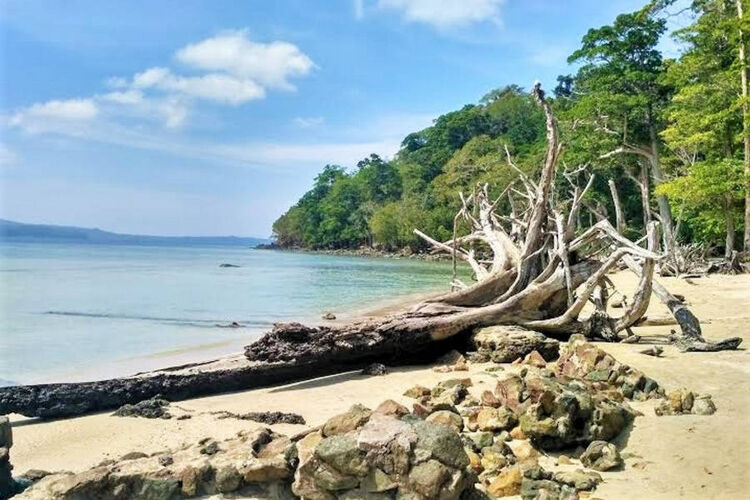 Yet another serene and calm beach, Chidiya Tapu is about an hours drive from Port Blair - and is totally worth it. Known to have the best view of the sunset in all of Andaman, it offers an easy trek leading to a small hill called Munda Pahad - the sunset point. Best to visit the place around 5:00pm and drown in the beauty of the sunset. There is also a mini zoo in the vicinity housing island animals.
The drive to the beach is again a highlight with paths filled with trees - even during day time the road seems dark since the thick lush trees block the rays of the sun. The place is also famous for bird watching and hence the name Chidiya Tapu. Even without binoculars or advanced cameras, you would easily be able to spot 5-6 different varieties of birds here!
🌅 The sun sets much earlier in the islands, generally between 5:00pm - 5:45pm
⚠️ Do not enter the waters here. Crocodile attacks are common
🎫 Tickets :
🤑 Entry to the beach is free of charge. Zoo entrance charges ₹ 20
5) Wandoor Beach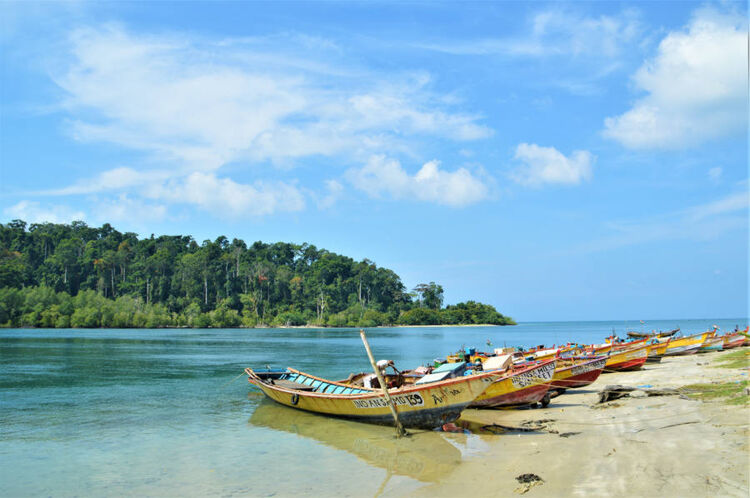 Away from the hustle bustle of tourists, Wandoor beach is one of the less crowded beaches of Andaman islands. The beach boasts of untouched blue water and white sand, as far as the eyes can see. The tiny islands seen from the beach add to its natural beauty. Swimming and other water activities are prohibited here since the water is said to have many deadly crocodiles.
A luxury resort by the name "Sea Princess" is located here and is famous among tourists and locals. Its restaurant serves food to guests not staying with them as well. Kulfi stalls are also available in the beach and serves real yummy Kulfi's! The perfect beach if you want to spend some time away from the crowds, staring blankly into the sea, reflecting on life and then have some yummy food and dessert! Two other less travelled islands - Red Skin Islands and Jolly Buoy Islands are accessible only from here.
6) Mahatma Gandhi Marine National Park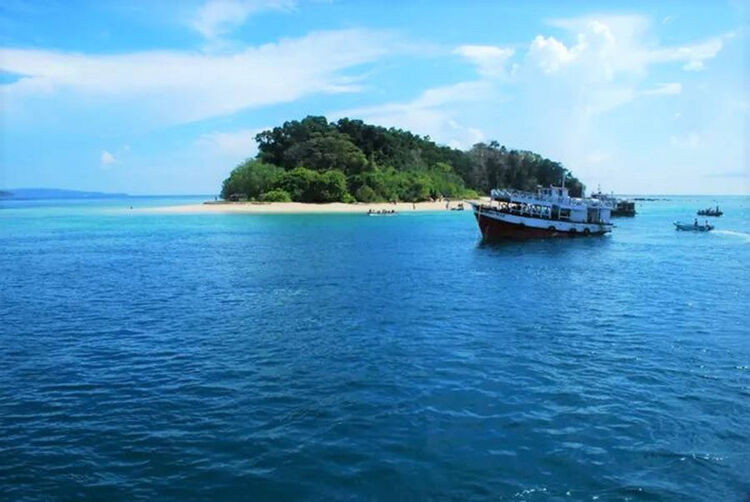 The marine park covers 281.5 sq km and is made up of 17 islands and open sea creeks running through the area. Since these are afar from Port Blair, lesser visitors come to this part of the island. Some of the best under water experiences can be had here with a variety of untouched & unexplored species of corals and other marine life. The islands are absolutely picturesque and if you are more of a traveler inclined towards taking the off-beat path, then these groups of islands would be the best for you!
There are 2 major island groups in the park: the Labyrinth Islands and the Twin Islands. Famous islands of interest here are Jolly Buoy, Red Skin and Rutland Island.
7) Viper Island

The island is named after a ship called H.M.S. Viper in which Lt. Archibald Blair (a lieutenant in the Bombay Marine who was the first to scan the Andaman and Nicobar islands and decided that the islands must be colonized in order to gain political control over it) came to Andaman and Nicobar Islands in 1789. This small island was the site of a jail called the Viper Jail where the British used to imprison convicts and political prisoners before the Cellular jail was built. The same gruesome torture that the freedom fighters were subjected to in Cellular jail was mimicked here too. Many of them were also hanged from gallows whose ruins are still seen here. (A gallow is a structure, typically of two uprights and a crosspiece used for hanging criminals). As of today not much is left of the jail to see - just the ruins reminding us of the sacrifice made by our brave men.
Two more popular islands towards the north of Port Blair that you could opt to explore are -

Ross Island a.k.a. Netaji Subash Chandra Bose Dweep

North Bay Island (famous for offering some unique water activities like Sea Walk and Coral Safari Sea Submarine ride)
---
Havelock Island (Swaraj Dweep)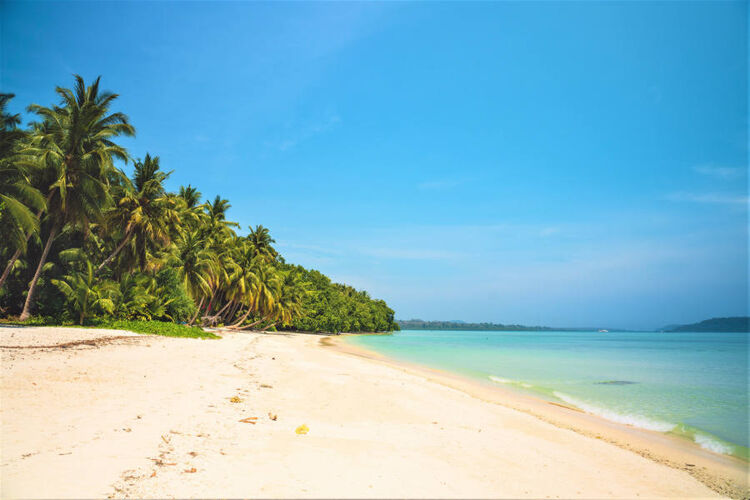 One of the largest islands among the Andaman islands, it is known for its spectacular white sand beaches, crystal clear blue waters, rich coral formations, large rain-forest and dive sites. Often described by tourists as "Heaven on Earth", its remarkable natural beauty is untouched. Its beaches are the cleanest you would find all over India and locals are extremely friendly. You could rent out cycles or bikes to travel within Havelock islands from the many rental shops available throughout the islands. The only thing to do here is to hop from one beach to another. Each is a beauty in its own. List of beaches here -
Beaches to try water sports
✔️ Radhanagar Beach
Once voted Asia's Best Beach by TIME Magazine, this is Havelock islands prime tourist attraction. Shallow waters make it the perfect place to swim and enjoy water sport activities for non-swimmers and aqua-phobics. This beach has it all - extremely white sand, pleasant blue water, dense forest as backdrop, water sport activities, mouth-watering seafood, beach resorts.. the list goes on!
✔️ Elephant Beach
Energetic beach destination offering swimming, snorkeling, scuba diving, sea walk, speed boats & banana boat rides. The walking path to Elephant Beach entry has a passage filled with mangroves and lustrous greenery. It is often cited as the best for water sports in all of Andaman. The beach is about 2 km away from the main road. You could either take a boat ride to the beach or trek. Glass bottom boat rides are popular here if you are scared to try out other activities that include getting into the water. They take you out to the sea where you can see beautiful corals and a wide variety of colorful fishes and other marine life from the glass-bottomed boats. The boats usually have a capacity of 6 - 8 people, charging about ₹600 per seat.
Beaches to relax and unwind
✔️ Kalapathar Beach
This white sand beach is famous for its natural rock formation of varied shapes and sizes. It is surrounded by dense tropical lush green trees. One can spot different colored crabs here. No water sport activities. Calm and less crowded. Good spot to catch the sun rise and set!
✔️ Vijayanagar Beach
Most resorts are located on this beach. Shallow waters and one can practically walk into the sea. Water here is so clear that you can see the surface below. This place offers spectacular photo ops - a boat hooked to a bench, a tire hung to a tree! You could stay in a resort here and take long walks along the sea line, relax, cherish life with some good food and drinks! The beach also provides some water sporting activities.
✔️ Govindnagar Beach
Very similar to Vijayanagar beach
---
Neil Island

Yet another stunning island located south of Havelock island, lined with gorgeous beaches. Less crowded and can be covered in a single day. Neil Island is popular for 3 of its beaches -
✔️ Laxmanpur Beach
Stretching along the west coast of Neil Island, Laxmanpur is divided into two parts: The north stretch is called Laxmanpur Beach No 1, while the southern stretch is called Laxmanpur Beach No 2. A natural rock formation called "Howrah Bridge" in the southern stretch is a popular tourist attraction. Water sport activities are available here.
✔️ Bharatpur Beach
Tranquil, picturesque beach popular for swimming & activities like glass-bottom boat rides, snorkeling & scuba diving. The real beauty though, is experienced only with a scuba dive that can expose you to an amazing array of fish, a colorful reef and other interesting marine life.
✔️ Sitapur Beach
Located along the east coast of Neil Islands are the remote island coast with white sand & clear water, two bays, caves, palm trees & fresh coconuts. Quiet and secluded rocky beach - best known for its mesmerizing sunrise. Hardly any visitors come here as Laxmanpur beach with its natural bridge formation is the most popular beach in Neil Island. Its beauty is nonetheless stunning and is more popular among locals.
⚠️ Make sure to book your ferry ticket from Havelock to Neil islands at least 2 days in advance. Private ferry tickets can be booked online (again make sure you book these prior to booking your hotel). Govt. ferry tickets are cheaper and have to be booked at least 2 days in advance from the ticket station. Ferry rides are limited and the demand is huge! High chances that you may not find a ticket if you try to book on the same day that you plan to travel.
---
Baratang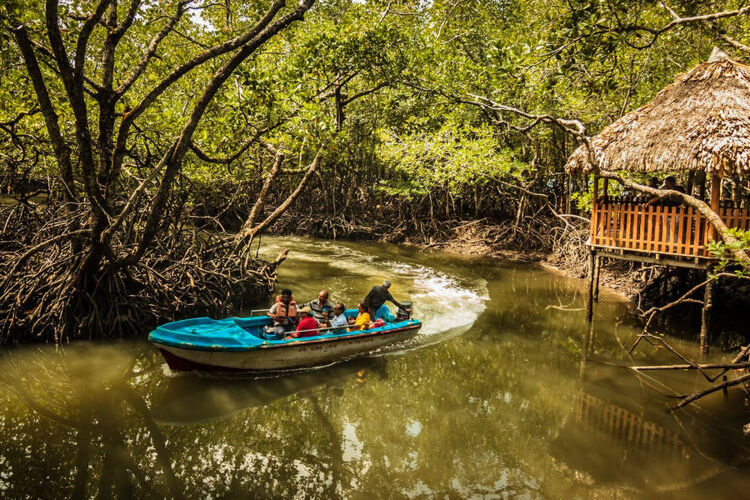 Baratang Island is a wonderful one-day trip destination from Port Blair. It belongs to the North and Middle Andaman administrative district. There are some fun things to explore here -
Limestone Caves
Naturally formed limestone caves are a highlight and a great spot to explore on your Andaman trip. A 20-minute boat ride takes you through the most dense and dreamy mangrove creeks. The forest is partly occupied by the Jarawa tribes and you may come across some natives. Give them their space and let them be, as they do not prefer to interact and like their isolated lifestyle. Pictures are strictly prohibited. Once you come back to senses from the dreamy mangroves, the beauty of the ancient limestone caves grasps you. These caves take centuries to form and are precious. They are lined with stalactites and stalagmites that have held the secrets of this great island for years! Take time to walk around and explore!
⚠️The limestone caves are closed on Mondays.
Mud Volcano
Another wonderful phenomenon of nature, the mud volcano is created when natural gases emitted by decaying organic matter underground pushes mud upwards. However, do not expect to see a huge mountain with mud erupting unbearably, as you would expect with an active volcano. In reality there are 2-3 holes on an elevated juncture where mud bubbles pop out with a time gap of one/two minutes. The locals call this mud volcano jalki. It is on the way back from the limestone caves.
Please note that the journey from Port Blair to Baratang to witness these two natural wonders can be quite exhausting. Let's quickly go through it-
✔️ First you take a 100 km road trip through a thick forest reserve. This is done only in a convoy and you'll have to be on time to catch the convoy fleet that starts the journey by 3am and reaches the check post by 4am! The journey itself is mind blowing - lush rain-forests with trees forming a wonderful canopy at times.
✔️ Next you cross a creek on a vehicle ferry for 10 minutes to get to Nilambur jetty in Baratang. Yes I said vehicle ferry! People, bus, cars - everyone and everything is transported by this ferry to the other side.
✔️ From here a speed boat takes you through the mangrove creek to Nayadera Jetty. Then a 10 minute trek through the forest gets you to the limestone caves! Yaay - you made it :)
✔️ The way back is exactly the same. In between, however, you could add a pit stop at the mud volcano - your speed boat would take you there.
---
Diglipur

Diglipur is the largest town of North Andaman district. There is not much to see here and I do not really recommend you come here. However, one distinctive specialty you get to see in Diglipur is the turtle nesting. Turtles come ashore, dig a pit, lay their eggs and cover up the pit without a trace and head back to the waters. The nesting season begins in December and goes on till March every year. Witnessing this is truly an experience in itself, but other than that there is not much to do in Diglipur. Ross and Smith islands are located close by.
---
Ross & Smith Island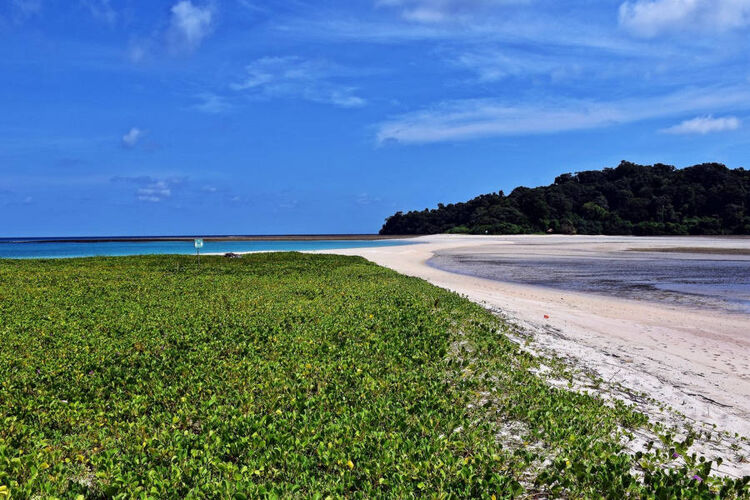 The small Ross Island, a 20-minute boat ride from Aerial Bay jetty, is an ideal spot for beach tourism, adventure (trekking through tropical forest), research and education (like scuba diving, snorkeling, turtle nesting). The sand bar joining this island with the larger Smith Island is an added attraction. This Ross Island is not to be confused with the Ross Island (a.k.a Subash Chandra Bose island) in South Andaman district near Port Blair.
Smith Island offers a similar experience to the small adjoining Ross Island. Smith Island has a village of about 60 families. Eco rest houses are available for overnight stay. The beach is notified for turtle nesting during seasons.
---
How to get around the Andaman islands?
Abundant public transport options in the form of local buses, auto-rickshaws, taxis and minibuses are frequently available and take you from one spot to another on land safely. App-based transport like Uber and Ola are not available. Bikes, cycles, scooters and cars can be rented on an hourly/daily basis from the many rental stores available mainly in Port Blair, Havelock Islands and Neil Islands. To travel between the islands, you could choose between the boats used by locals (available at much cheaper rates) or the bigger better-looking boats designed for tourists (price range much higher).
---
Where to stay?
Accommodation in Andaman is available on either the mainland or on one of its beautiful islands. Use the map below to select the best available hotels as per your convenience.
Luxury Accommodations:
Great Accommodations:
Budget Backpacking:
All Hotels Map:
---
Map
📌 Use the below interactive map for directions:
✔ Clicking the top right button opens the map in a new tab showing the different sections. Click on view map legend if browsing on phone✔ Save the map in your Google Maps for easy access later: Click the ⭐star button beside the name of the map. You can access the map later from Google Maps > Saved > Maps
Shubho Jatra! :)