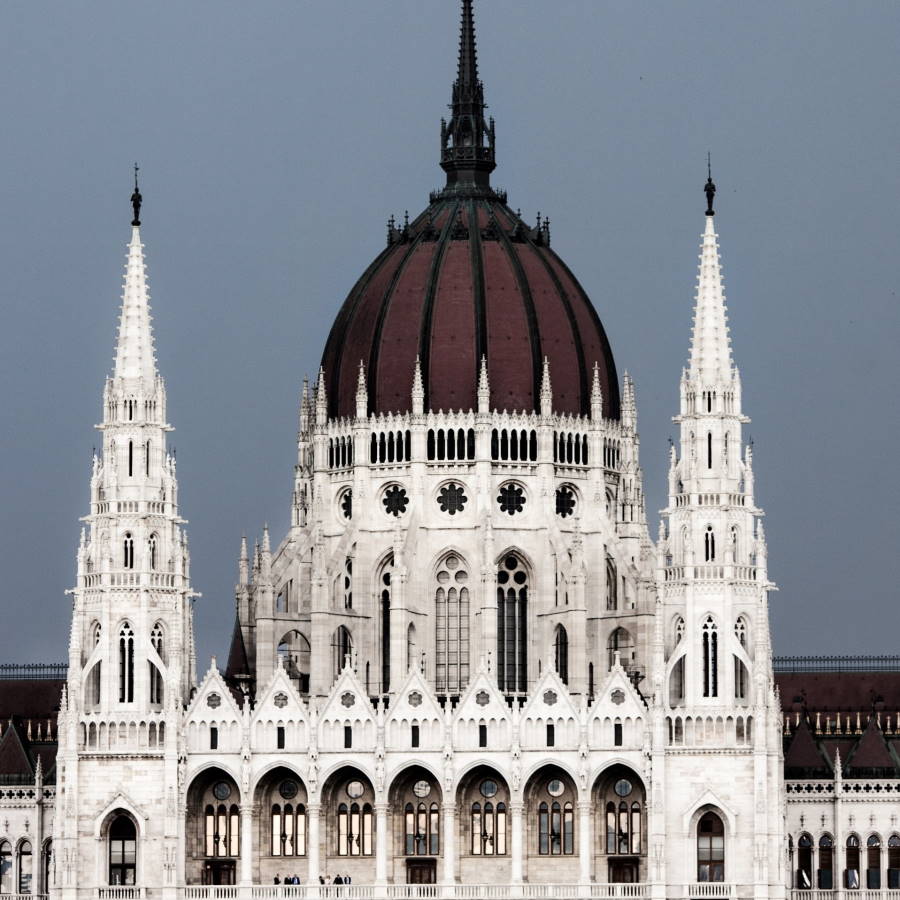 One Day in Budapest - Travel Guide and Itinerary
Budapest is a charming little city divided into two parts by river Danube. Buda is the hilly terrain towards the left, while Pest is the flat area towards the right. It falls in the 'not-so-expensive' list when compared to its counterpart European cities and thus gives great value for money. English is widely spoken and locals are warm and friendly.
Hungarian Forint (1 € = 366 HUF) is the official currency. Euros might be accepted but the exchange rate would not be to your advantage. I would recommend carrying some cash in HUF. Cards are widely accepted everywhere in the city.
(Map included at the bottom of the article)
---
🥘 What should I eat?

🍛 Goulash - National dish of Hungary, a curry style meat and vegetables soup seasoned with paprika and other spices.
🍛 Hungarian Chicken Paprikash - Chicken simmered in a flavorful cream based sauce made with paprika
🍞 Langos - Hungarian style deep fried dough
🍰 Drummer Cake - 7 layered Hungarian sponge cake with chocolate buttercream and caramel.

🥃 What should I drink?

🍹 Froccs - Wine & soda
🍸 Palinka - Traditional fruit brandy
---
1) Start the day off at Fisherman's Bastion
 💳 HUF 1,000 (€3.5) - for the upper towers, no charge for the lower towers  | 🕑 1 hr

What is it?
This UNESCO world heritage site, is a panoramic viewpoint with multiple level terraces. The bastion comprises of 7 lookout towers, each representing one of the 7 Hungarian chiefs who ruled through the years. Right in the center is a statue of St. Stephen who was Hungary's first king.
What to expect?
Easily the most impressive sight in Budapest. The towers are right out of a fairy tale. You could not ask for a better place for all those 'gram worthy pictures! Matthias' Church is 100 m away and is a magnificent church to pay a quick visit on the way. It was used for the coronation ceremony of Hungarian kings for centuries. Its unique colorful facade and castle-like architecture makes it one of the finest churches in all of Europe.
Timings
Open all days 24*7

Tickets
Visiting the lower terraces are free of charge and they provide spectacular views in their own right. However the upper terraces have an entry ticket of HUF 1,000 (€ 3.5). Tickets can be bought on the spot.

How to get there?
- Nearest Bus Stop : Szentháromság tér (Route 16/16A/116/916)
- 10 minutes walk from Budapest Castle
---
2) Head to Buda Castle
 💳 HUF 1,400  (€4)  | 🕑 2 hrs

What is it?
Nestled on a hilltop overlooking the Danube river, an impressive palatial castle that was occupied by the Hungarian kings. It currently is home to the National Széchényi Library, History Museum and the National Gallery. The castle building is enormous and is surrounded by numerous statues, fountains and lush greenery. The castle was built umpteen times between 13th to 19th centuries by various rulers and hence kept changing in its architectural style and design. Over the years it has been occupied by the Mongol tribes, several Hungarian kings and the royal Habsburg family of Austria. The Sándor Palace is located beside the castle and currently serves as the official office and residence of the President of Hungary.
What to expect?
I would recommend buying the ticket only if you are interested in museums and galleries. The best part in my opinion is the walk to the castle from the chain bridge passing through different buildings, statues, fountains, courtyard gates and taking in stunning views of Pest, the Parliament building, and Danube river. Do try and witness the changing of the guards in front of the Sándor Palace (Once every hour 10 am, 11 am, … 4 pm, 5 pm) - It's impressive! The castle is lit up every night and you have to make an effort to see it shining in all its glory.
Timings
Tuesday - Sunday 10 am - 6 pm; Closed on Monday
Entry to the courtyard of the castle hosting the statues, fountains and gardens is free and can be visited anytime 24*7, but entry to the museum and gallery requires ticket and follow timings.

Tickets
Guided tour tickets can be bought here - Tickets

How to get there?
- Nearest Bus station - Clark Ádám tér. Routes : 16/16B/105/916
- Nearest Tram station : Clark Ádám tér. Routes 19 and 41
- Nearest Metro station : Batthyány tér. Routes M2 and H5
Once you reach the area, the castle is up top a hill. A 10 minute hike would be the best option and is not very demanding. Alternatively you could also opt for a fun Funicular ride to help you get to the top. (HUF 1,400 one way; HUF 2,000 return)
---
3) Walk on Széchenyi Chain Bridge to get to Pest
 💳 Free  | 🕑 30 minutes

What is it?
Postcard superstar of Hungary, the chain bridge was the first permanent bridge to span the Danube river. It was opened to public on November 20, 1849. It connects Buda to Pest. Made of cast iron, its iron chains look spectacular when they shine like gold at night!
What to expect?
Definitely a symbol of Budapest and one must not miss walking over this bridge. Needless to say it makes for amazing photos and gives breathtaking views of both sides of the city!
Timings
Open 24*7

How to get there?
- 5 minutes walk from Buda Castle
---
4) Pass by Shoes on the Danube Bank
 💳 Free  | 🕑 30 minutes

What is it?
Moving memorial erected on April 16 2005 to honor the Jews who were killed by fascist Arrow Cross Party members (in cooperation with the Nazis) in Budapest during World War II. Jews were ordered to take off their shoes, and were shot at the edge of the water so that their bodies fell into the river. The tribute was created by film director Can Togay and sculptor Gyula Pauer. It consists of 60 pairs of shoes, true to life in size and detail, sculpted out of iron.
What to expect?
It is a sad sight to watch and to realize that each shoe represents a murder. Also when you see the world move by on either sides of the river, its a quick reminder of the reality of life.
Timings
Open 24*7

How to get there?
- 8 minutes walk from Chain bridge.
- Nearest bus station : Kossuth Lajos ter M (Routes 15/115)
- Nearest tram station : Kossuth Lajos ter M (Route 2)
- Nearest metro station : Kossuth Lajos ter (Route M2)
---
5) Next up is the Hungarian Parliament Building
 💳 10,000 HUF - 11,000 HUF (€27 - €30)  | 🕑 1.5 hrs

What is it?
Known to be the third-largest Parliament building in the world, this monument is breath-taking and does justice to what the pictures depict. It has 2 massive halls that are still in use by the government today for sessions of the Hungarian National Assembly, conferences and other programs. The richly decorated central staircase, the Hungarian Crown Jewels, and the Hungarian Holy Crown are some of the beauties you get to see inside. The Parliament Building is decorated with beautiful tiles, murals, and statues. More than 500,000 precious stones and about 90 pounds of gold were involved in its construction.
What to expect?
Guided tours are the only way to view the inside of the building and these have to be booked in advance. The slots get filled very quickly. The guides do a great job of explaining the pre and post World War II stories and its influences on Hungary. Each corner has so much history and the word that best describes this building is "Grand". It's picturesque both from the inside and outside.
Timings
Open on all days 8 am - 4 pm

Tickets
Guided tour : Tickets

How to get there?
- 7 minutes walk from Shoes on the Danube bank
---
6) Try a thermal bath!
 💳 8,000 HUF (24 €)  | 🕑 2 hrs - 3 hrs

What is it?
Apart from being famous for its historic edifices, Budapest has another unique specialty - Yes! The thermal baths. Thanks to the curiosity of early Roman settlers, they discovered the massive reserve of spring water emerging from beneath the city. The water was later found to be rich in minerals with excellent relaxation and medicinal properties. Thus began the culture of thermal baths and spas in Budapest. Today there are about a dozen of them across the city offering different packages with includes massages, sauna, beer and wine while relaxing in the pools and also a chance to taste the natural spring water.
What to expect?
I highly recommend this experience! Most thermal baths have whirlpools and water jet sections within the bath areas to add some fun and enhance your relaxation time. Grab your bikinis and shorts and jump into a thermal bath now !!
Tickets

- Széchenyi Spa is the oldest and the most famous thermal bath in the city. One session with optional massage would cost about 8,000 HUF (24 €). Well worth the money! Széchenyi Spa Ticket
The ticket gives you full day access to the spa.
- Gellert Spa is another famous one. Cost and options are very similar to Széchenyi Spa : Gellert Spa Tickets
---
7) Take a dinner cruise on the Danube river
 💳 14,000 HUF - 20,000 HUF  (€40 - €60)  | 🕑 2.5 hrs - 3 hrs

What is it?
Hands down, one of the most romantic dinner cruises I have ever been on. Sailing over the Danube river, overlooking the now majestically lit up Buda castle, Hungarian parliament, chain bridge and all the other streets and buildings we had passed by during our morning sightseeing was such a surreal moment. Witnessing a Hungarian folk show, sipping on some Froccs and binging on traditional food, this cruise ride was sure a highlight of our trip!
What to expect?
I absolutely loved every minute of it! Staff members were cheerful and friendly and the food was lip-smacking. After the show was done they had all the guests gather around the artists and dance away! It was beautiful.
Tickets
- Dinner & Cruise on the Danube with live music, 3 drinks, and buffet dinner for €45 - Tickets
- Dinner Cruise with Piano Battle Show with a glass of champagne, 4 course meal and live entertainment for €60 - Tickets
---
🚌 How to get around the city?

Option 1 : Just walk! All the sites listed in this article cover a total of 2.2 km (1.4 miles) and accounts to a walk time of 28 minutes. However you would be walking in and around the sites while exploring them and your little feet may get tired.

Option 2 : The next best way is to use the excellent local bus service in the city. Every site has a bus stop close by and buses are frequently available. Recommend buying the 24-hour travel card costing 1,650 HUF (€4.5). The same travel card works on all public transports including buses, metros, trams, and some boats too!
---
Map
📌 Use the below interactive map for directions:
✔ Clicking the top right button opens the map in a new tab showing the different sections. Click on view map legend if browsing on phone✔ Save the map in your Google Maps for easy access later: Click the ⭐star button beside the name of the map. You can access the map later from Google Maps > Saved > Maps
Boldog Utazások! :)