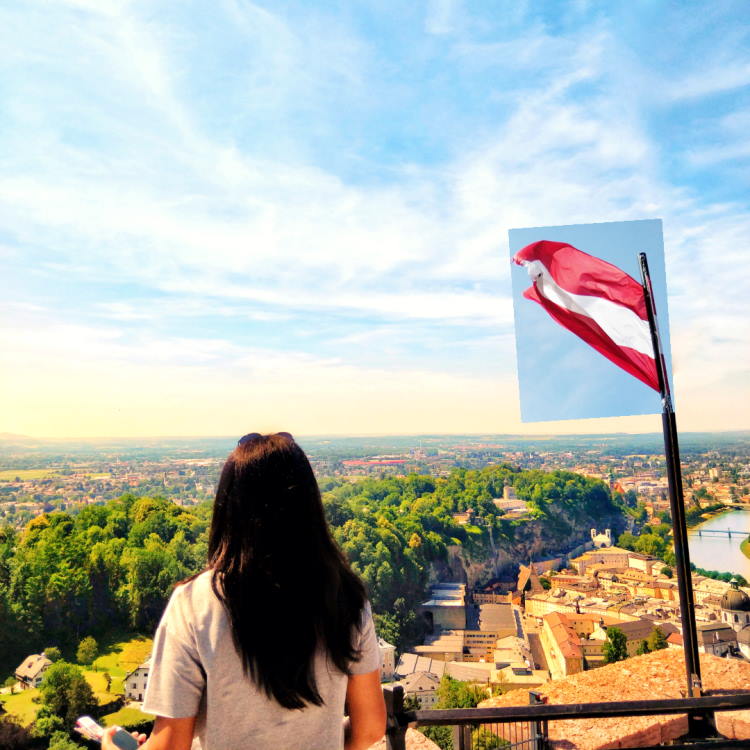 A blissful day in Salzburg
This Guide Contains
Interactive Map with Day Plans
Salzburg is a quaint little city in north-central Austria and is split into 2 by river Salzach. It shares its border with Germany and hence enjoys dual attention and influence from both Austria and Germany. In fact, German is the official language of Austria while English is widely understood. Music maestro Mozart is synonymous with Salzburg and is the pride of the city. A lot of things in the city are reminiscent of him.
Euro is the national currency. Cards are largely accepted but some smaller shops and restaurants prefer cash and may refuse cards. It always helps to have some spare euros handy.
The best part about the city is that all the main points of interest are concentrated within an area of 2 km. Yes, you heard that right! All 8 places listed in this article are the main places to visit in Salzburg and are literally next to each other and are located in the centre of the city. You could keep a watch on time and complete all these sites in 1 day, or relax and span them over 2 days.
The Salzburg Festival is a world-famous celebration of music and drama and is held each year between July-August. The city has a completely different charm during this time and the energy is wild! Do recommend checking it out if you happen to be there during these months.
(Map included at the bottom of the article)
---
🥘 What should I eat?

🥟 Kasnocken - Traditional Dumplings
🍨 Salzburger Nockerl - Dessert Souffle. Highly Recommended!
🍛 Wiener Schnitzel - National food of Austria and the king's beloved - thin, breaded, pan-fried veal cutlet served with salad and a slice of lemon

🥃 What should I drink?

🍺 Beer and more beer! - The brewing culture is huge here. Stiegl is an oldie but goldie from Salzburg.
---
1) Fortress Hohensalzburg (Salzburg Castle)
 💳 € 9 | 🕑 2.5 hrs

What is it?
A mighty fortress built high up on a hill overlooking the entire city. It is one of the largest fully-preserved castles in Central Europe. The main purpose of building it was to keep a hawk-eye watch at the happenings of the city. The entry ticket gives you access to an audio device that guides you through the complete castle. Inside, you get to learn about the history of the castle, who lived there, visit the torture chambers and see the torture weapons used, explore the magical theatre and puppet museum, to name a few.
What to expect?
Since the castle is built atop a hill, there is a funicular ride that helps guests get to the top. You could hike your way up as well. The castle is huge and has many rooms and a wide terrace that gives brilliant views of the complete city of Salzburg. A restaurant is available in the castle complex with breath-taking views and delicious food!
Timings
Summers (January – September) : 9.00 a.m. – 7.00 p.m.
Winters (October– December) : 9.00 a.m. – 5.00 p.m.

Tickets
All inclusive ticket can be bought here : Tickets
Ticket includes a 2 way funicular ride.
---
2) St Peter's Abbey
 💳 Free  | 🕑 30 minutes

What is it?
Definitely a hidden gem of a place, it is the oldest church in the city. Breathtakingly beautiful with ornate frescoes and paintings on the ceilings and walls! Very rich and elegant decor. Parts of the famous movie 'The Sound of Music' was shot here. The long gallery inside the abbey houses a corridor full of paintings on one side and windows on the other.
What to expect?
St. Peter's Abbey is generally missed by visitors with the castle and Salzburg cathedral being at such close proximity. Well, their loss! Its a serene and peaceful place to sit and contemplate for a few minutes, away from the crowds. The cemetery and catacombs are worth a visit and take you back in time. It is one of the world's most beautiful and oldest cemeteries and many famous personalities including Mozart's sister Nannerl are buried here. There is a hidden library in the church known to be the oldest in the city as well. Entry is restricted though and requires special permission.
Timings
Open all days : 8 am - 12 pm and 2:30 pm - 6:30 pm

Tickets
Catacombs have a €2 entry fee and can be bought on the spot.
Pro Tip
After exploring the castle and abbey, I'm sure you're tummy is now growling! How about having lunch in the oldest existing restaurant in the world- St. Peter Stiftskulinarium! This Michelin star restaurant is within the walls of St Peter's Abbey and has served legends like Wolfgang Amadeus Mozart and Christopher Columbus.
---
3) Salzburg Cathedral
 💳 Free  | 🕑 30 minutes

What is it?
Located just below the castle is the 17th century Roman Catholic cathedral of Salzburg, dedicated to Saint Rupert (Bishop of Worms as well as the first Bishop of Salzburg) and Saint Vergilius (an Irish churchman and early astronomer; he served as Abbot of Aghaboe, Bishop of Ossory and later, Bishop of Salzburg). With its cyan coloured eye-catchy central dome and two cyan dome-capped towers, the cathedral has become a symbol of the city. It has 3 entrance doors (representing Faith, Love, and Hope) and the exterior facade is made of marble. Numerous statues are sculpted on its entrance wall including that of Saint Rupert and Vergilius.
What to expect?
The interiors of the church is grand with tall roof heads. It is massive and can seat approximately 900 worshipers at a time. Over time it had to be rebuilt multiple times (was destroyed many times by fire) since its first completion in 1628. A staircase to the left of the altar leads to a basement that has the cathedral crypt. Many saints and bishops were buried here. Glimpses of the older structures can be seen here. The baptismal font of this cathedral was used for the christening of Mozart! The cathedral square has a huge statue of the Virgin Mary. The square is used as a venue for various musical and art performances and is a popular sight during the Salzburg Festival and Christmas.
Timings
Monday - Saturday: 8 am - 5 pm; Sunday 1 pm - 5 pm
---
4) Mozart's Birthplace
 💳 € 13 | 🕑 1 hr

What is it?
Salzburg's most famous son Wolfgang Amadeus Mozart, a world-renowned music composer was born here. He spent a lot of his childhood with his parents and 6 siblings in this very building in a humble home on the third floor, until they moved out in 1773. The building is now converted into a museum showcasing Mozart's early life, his childhood music instruments, handwritten music sheets, manuscripts, documents, and a wide variety of pictures and portraits including his growing up years, travelling and concert photos and family pictures.
What to expect?
This 1-hour walk takes you through Mozart's colourful life from a very relatable perspective. It feels surreal to be standing in the same house where a legend once lived. Mozart died a very mysterious death at a tender age of 35 and there have been numerous conspiracy theories around it ever since. A tour of Mozart's birthplace will sure be a lovely memory you will be taking back with you.
Timings
9 am – 5:30 pm

Tickets
You can book your skip the line entrance tickets here : Tickets
---
5) Getreidegasse Street
 💳 Free | 🕑 1 hr

What is it?
A famous shopping alley in the old town of Altstadt lined with commercial stores, houses with public passageways on the ground floor, and a ton of eateries. Historically this street was known to be a rich man's place. The tall and narrow townhouses belonged to city councilmen, officials, judges, and ministers.
What to expect?
A pretty alleyway to stroll about and browse through the various modern and traditional shops it houses. The street looks super pretty once the sun sets, with all the different shaped lights glowing. This would be a good stop to grab lunch or dinner!
Timings
Open 24*7
---
6) Makartsteg (Love Lock Bridge)
 💳 Free | 🕑 20 minutes

What is it?
A busy pedestrian bridge spanning the Salzach river. It connects the old town to the other side of the city. Otherwise, an ordinary bridge, the thousands of colourful locks on either side of it left behind by lovers from all around the world makes this a tourist attraction.
What to expect?
A nice memory to celebrate with a loved one. There are many shops all around the city selling locks and keys. We spent some time going through the lovely locks and the names and hearts on them! It's a bridge full of love 🥰. Definitely worth a quick walk by and a couple of pictures! And if you are feeling particularly romantic that day, then do buy a lock and secure your love for eternity!!
Timings
Open 24*7
---
7) Mozart's Residence
 💳 € 12   | 🕑 1.5 hrs

What is it?
After spending his growing up years in the house Mozart was born in, his family moved out of their small house into a bigger 8 bedroom apartment in the Makartplatz area in 1773. This is where Mozart lived in Salzburg until he moved to Vienna in 1781. Before the Mozarts moved in, the house was known to be owned by a dance master, and hence the house is also referred to as the dance masters house. After the Mozarts left, the house was owned by several other families until 1944 when it burned down in an air raid. The house was rebuilt exactly as it was and in January 1996 it was converted into a museum.
What to expect?
Like Mozart's birthplace, this museum too has a lot of details that shed light on the great life led by the legend. You get a good understanding of his growing up days in Salzburg, how he nurtured his talent, his international shows and concerts, all the honours he was garnered with, and also his days in Vienna. His original fortepiano is also showcased in the museum.
Timings
Open all days 9 am - 5:30 pm

Tickets
Skip the line tickets can be bought here : Tickets
---
8) Mirabell Palace and Gardens
 💳 Free | 🕑 2 hrs

What is it?
A 17th-century palace built by prince-archbishop Wolf Dietrich Raitenau for his mistress Salome Alt, with whom he had 15 children. Mirabell literally translates to "of wondrous beauty" and boy does the palace do justice to that! The palace has a grand enormous marble hall that is used even today for musical concerts, weddings, and other functions. Back in the day Mozart and his sister Nannerl would showcase their musical mastery in this very hall. The staircase leading to the hall is called the "Angel Staircase" and is richly decorated. Today, Mirabell Palace houses the city's administration and the mayor's offices.
What to expect?
Beautifully maintained gardens of Mirabell palace is very popular among tourists and locals alike. Different coloured flowers along with numerous fountains with the backdrop of the palace makes it a visual treat. This was the location setting for the movie 'The Sound of Music'. The cathedral and the castle can also be seen from the gardens.
Timings
Palace and Staircase: 8 am - 6 pm
Marble Hall: Monday, Wednesday, Thursday 8 am - 4 pm; Tuesday and Friday: 1 pm - 4 pm. No visit in case of special occasions.

Tickets
Classical music recitals held in the marble hall of the palace generally perform Mozart's famous works. A joyous experience and definitely one to stay with you for a long time. Each time I've heard the sound of violin ever since, I am drawn to this performance and it instantly puts a smile on my face! You could buy your tickets here for €35 : Tickets
---
Where to stay?
Altstadt also referred to as the old town is "the" place to stay. You will find lots of Air BnB's and accommodation options in this area. Try finding a river-facing accommodation to amp up those dreamy vibes.
---
How to get around the city?
I would suggest you walk. The streets are wide and pretty. Everything is at walking distance. Be sure to don those comfy sneakers!
---
Map
📌 Use the below interactive map for directions:
✔ Clicking the top right button opens the map in a new tab showing the different sections. Click on view map legend if browsing on phone✔ Save the map in your Google Maps for easy access later: Click the ⭐star button beside the name of the map. You can access the map later from Google Maps > Saved > Maps
Gute Reise! :)